India Tobacco Giant Tries Short Cigarettes as Taxes Hit Demand
Adi Narayan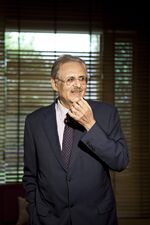 India's smokers are favoring cheaper options such as chewing and leaf-wrapped tobacco over cigarettes, as rising taxes prompt British American Tobacco Plc's Indian associate to sell shorter sticks with lower duties.
"Earlier on, as the taxation was increased, the cigarette industry showed resilience. Now, it has suddenly begun to drop," Yogesh Deveshwar, chairman of Asia's third-biggest listed tobacco-seller ITC Ltd., said in an interview with Bloomberg TV India. "The tobacco consumption basket continues to grow, whereas the cigarette share continues to shrink."
India's government has raised taxes, required graphic warnings on packages, and barred smoking scenes in films as it seeks to reduce tobacco use and fight related illnesses that kill a million Indians annually. Duties on cigarettes have more than doubled in the past four years and there are signs smokers are becoming more price-conscious, according to brokerage IIFL Institutional Equities.
ITC, a major component of India's S&P BSE Sensex, plunged the most in seven years on Feb. 28, after Finance Minister Arun Jaitley proposed raising duties again, this time by at least 15 percent.
Short Sticks
ITC has begun to cut the size of some products to preserve margins as sales volume slumps, taking advantage of a quirk in India's tax system that hits longer cigarettes with higher rates.
Last month, the company shortened its discount Bristol brand cigarettes to 64 millimeters (2.5 inches) from 69 millimeters, lowering the tax without cutting the retail price, IIFL analysts Percy Pathanki and Avi Mehta said in a March 26 report. "If successful, this experiment could pave the way for some more brands transitioning similarly over a few years," they wrote.
Manufacturers now pay a duty of 1.44 rupees (2 cents) on each cigarette 65 millimeters or shorter. The rate is 1.9 rupees, or 32 percent higher, for cigarettes 65 to 70 millimeters.
ITC's shares rose 1.4 percent to 356.50 rupees as of 2:58 p.m. in Mumbai, paring this year's declines to 3.3 percent.
Hand-Rolled Smokes
Cigarettes currently account for 12 percent of all tobacco consumed in India, half the rate two decades ago, said Deveshwar, who joined ITC in 1968. He had a stint as chairman of Air India between 1991 and 1994.
The nation consumes nearly 10 times as many bidis, a cheaper form of hand-rolled cigarettes, according to a World Health Organization report in August. Yet cigarettes provide 85 percent of tobacco taxes, data from the Central Board of Excise and Customs show.
A 10-stick pack of budget cigarettes retails for about 55 rupees in Mumbai, while those of premium brands such as Philip Morris International Inc.'s Marlboro cost 100 rupees. The same size pack of bidis, tobacco wrapped in the leaf of an Indian plant known as tendu, costs between 6 and 10 rupees.
The tax on bidis make up about 9 percent of the retail price, compared with 38 percent for cigarettes, according to a 2010 study funded by Bloomberg Philanthropies and the Bill and Melinda Gates Foundation. Bloomberg Philanthropies was founded by Michael Bloomberg, also founder and majority shareholder of Bloomberg LP, the parent company of Bloomberg News.
Cigarette Dependence
ITC has tried to reduce its reliance on cigarettes over the past decade, diversifying into other consumer products such as soaps and snacks.
While it has emerged as the nation's second-biggest consumer goods maker in that time with a portfolio spanning foods, soaps, apparel and incense, it still relies on tobacco products for profits. Cigarettes contributed 84 percent of the company's operating profit in the year ending March 2014, down from 86 percent in the 2005 fiscal year.
The Kolkata-based conglomerate is also the nation's No. 2 exporter of agricultural produce, and runs one of the top hotel chains. Not including excise tax payments, 60 percent of the company's sales come from businesses other than cigarettes, spokeswoman Nandini Basu said.
Healthcare Costs
The government's tax revenue from cigarettes has also seen a slight decline. For the eight months ending in November, cigarettes taxes collected fell 0.02 percent, according to most recent data from the excise board.
Deveshwar said reduced tax revenue from cigarettes would hurt India's economy because public finances have grown reliant on the funding source.
In July, the country's then health minister, Harsh Vardhan, said in a letter to his counterpart in the finance ministry that raising taxes by 2 rupees per cigarette in the federal budget would help India by reducing rates of cancer and heart disease.
Tobacco-related ailments cost India about 1.05 trillion rupees in 2011, according to a Health Ministry study released last year. That dwarfs the 178 billion rupees in tobacco taxes raised for the year ending in March 2014.
Before it's here, it's on the Bloomberg Terminal.
LEARN MORE