Hillary Clinton Now Wants the Supreme Court to Rule in Favor of Gay Marriage
In a statement, the former secretary of state calls same-sex marriage a constitutional right.
By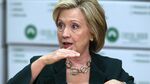 Hillary Clinton believes the Supreme Court should rule in favor of same-sex couples, a Clinton campaign spokesperson said Tuesday. After a BuzzFeed story pointed out that the Clinton campaign has been quiet on the subject, her campaign released a statement. 
"Hillary Clinton supports marriage equality and hopes the Supreme Court will come down on the side of same-sex couples being guaranteed that constitutional right," Adrienne Elrod, a spokesperson for Hillary for America, wrote.
This marks the latest step in the presidential candidate's years-long evolution on the issue. In 2013 she released a video with the Human Rights Campaign declaring her support for gay marriage. But there's a distinction between supporting a state-by-state legalization of gay marriage and hoping that the Supreme Court rules in favor of gay couples, and as recently as last year, she argued it was an issue better left to the states. 
"So for me, marriage has always been a matter left to the states and in many of the conversations I and my colleagues and supporters had, I fully endorse the efforts by activists to work state-by-state," Clinton told NPR's Terry Gross in June of 2014. "In fact, that is what is working and I think that being in the position that I was in the Senate, fighting employment discrimination which we still have some ways to go, was appropriate at that time.
At the time, Clinton was criticized for wanting it "both ways," as The Daily Beast put it, for stopping short of calling gay marriage a constitutional right. During the same NPR interview, Gross and Clinton engaged in a tense back and forth over whether she delayed announcing her support of same-sex marriage until it was politically feasible.
This week Clinton highlighted LGBT couples in her announcement video (one couple later invited Clinton to their wedding), but Tuesday's statement is welcome news for LGBT supporters. As the Human Rights Campaign's president Chad Griffin tweeted: