Hank Paulson Is Bullish on Jeb Bush
The former Treasury secretary surveys the 2016 field.
By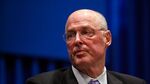 Hank Paulson, the former Treasury secretary under President George W. Bush, is looking for a presidential candidate who will work on economic policy without pointing fingers at the financial industry. Though he said there are several potential candidates who could fit the bill, he revealed a favorite on Wednesday: "I happen to be a Jeb Bush fan."