Hank Paulson Is Bullish on Jeb Bush
The former Treasury secretary surveys the 2016 field.
By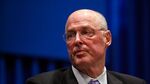 Hank Paulson, the former Treasury secretary under President George W. Bush, is looking for a presidential candidate who will work on economic policy without pointing fingers at the financial industry. Though he said there are several potential candidates who could fit the bill, he revealed a favorite on Wednesday: "I happen to be a Jeb Bush fan."
"I see him as a problem solver," Paulson told Bloomberg News. "I see him as someone who's excelled as a governor, someone I think will have the programs to get the economy growing. And is not divisive. I like where he is on immigration. I like the fact that he's authentic enough that he hasn't said, 'Well, you know, I used to be for the common core in education but now I've changed.'" 
Paulson also said that "income disparity is a huge issue in this economy," a talking point that's been taken up with equal enthusiasm by Republican and Democratic aspirants to the nation's highest office. He added, however, that it's "regrettable right now that bankers are being demonized." 
"The way to solve that problem is not by pointing the finger, scapegoating Republicans, scapegoating Democrats, Democrats scapegoating Republicans, people scapegoating China or Wall Street," Paulson said. "We've had demagogues throughout the history of this country. We've had populists, but what we need is problem solvers."