Goldman Asked More Than 1,000 Consumers About the Apple Watch, and it's Good News for Apple
Goldman sees solid interest
by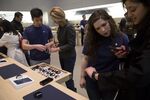 Preorders kicked off last Friday for the new Apple Watch, and analysts across Wall Street are trying to estimate what the sales figures will look like. 
In an attempt to get further insight, Goldman Sachs conducted a survey of over 1,000 nationally representative U.S. consumers over the weekend, asking participants about their intentions to buy a smart watch this year.
Here's what Goldman analyst Lindsay Drucker Mann and her team found.
Survey is positive for Apple, negative for traditional watch brands. 

We surveyed a group of over 1,000 nationally representative consumers on 4/11, the day after the preorder window for Apple Watches opened. Our key insights include: (1) encouraging initial demand, with +11% of iPhone users "very likely" to purchase an Apple Watch this year, (2) regular watch wearers are among the most likely to order an Apple or other smart watch, suggesting high displacement rates for traditional watches from smart watch adoption, (3) young consumers are substantially more likely to buy an Apple Watch than older consumers, and (4) those likely to buy a smart watch most often indicate Fossil, Seiko, Casio, Rolex, Timex, and TAG Heuer are the watch brands they wear today.

Goldman also broke out the results based on age, gender, income and geography. 

Goldman has a forecast of 13.5 million Apple Watch units sold globally in 2015 and 23.8 million in 2016.
Before it's here, it's on the Bloomberg Terminal.
LEARN MORE