French Fighter Jets Show Modi Can't Make Everything in India
Natalie Obiko Pearson and N.C Bipindra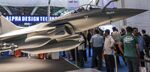 For Prime Minister Narendra Modi, neither option was great: Continue negotiations with France on a fighter jet deal he couldn't afford, or go for a smaller agreement that could undermine his "Make in India" policy.
Last week in Paris, Modi shelved plans to buy 126 Rafale warplanes from Dassault Aviation SA, a contract that would've seen 108 built in India. Instead he asked for 36 French-made fighter jets to quickly replenish the air force's aging fleet.
The move to all but kill India's biggest defense purchase in five decades reflects the dire state of both the nation's armed forces and its manufacturing capabilities. How Modi responds will determine his ability to win investment and create jobs for the millions who voted him into power last year.
"You have to give Modi credit for being pragmatic, for being a problem solver," said Harsh V. Pant, a South Asia security expert in the defense studies department at King's College London. "He could've been ideological about this. He could've said it's going to give a bad name to my Make in India initiative so I'm not going to deliver on this deal and we'll wait and renegotiate."
Modi has vowed to reinvent the world's largest arms importer into a cutting-edge manufacturer to rival China, which debuted its newest stealth fighter in November. He raised the foreign ownership cap in the defense sector to 49 percent and cleared about $40 billion of arms procurement proposals -- roughly four times more than the previous year -- in a blitz spanning heavy guns to submarines.
$150 Billion
He's also planning to spend $150 billion through 2027 to modernize India's military, and wants to build up its domestic production as part of that. Just two months ago, Modi said the defense sector was "at the heart" of his plan to create manufacturing jobs.
The fighter jet purchase dates back to 2007, when India first called for bids that included technology transfer as it looked to build up its local defense industry. Five years later, it picked Dassault over rivals such as Boeing Co., Lockheed Martin Corp. and Saab AB for a contract priced at about $11 billion to build 126 warplanes.
Talks Stall
Talks have since stalled over pricing and a requirement for Dassault to assume liability for the 108 jets due to be built under license by Hindustan Aeronautics Ltd. The state-run company, which has a near monopoly on India's aerospace industry, has been plagued by quality problems; its indigenous Tejas fighter jet took more than 20 years to develop.
"These torturous negotiations were going on, and meanwhile the air force required these aircraft urgently," said R.K. Sawhney, a former director general of military intelligence. "If the present government had carried on stalling, it certainly would have affected our operational preparedness."
With no solution in sight, Modi asked French President Francois Hollande to help deliver French-made jets in a government-to-government deal as soon as possible given their "critical operational necessity," according to a statement after the leaders met on April 10. While terms of the deal weren't disclosed, the 36 Rafale jets will take at least two years to deliver.
Defense Minister Jean-Yves Le Drian will travel to India in a few weeks to negotiate the contract for 36 fighter jets and check on the status of the other 126, according to a French official who asked not to be identified due to government rules. France believes the original agreement hasn't been canceled, the official said.
'Steep Slope'
France's defense ministry declined to comment. A Dassault spokesman also had no comment when reached by phone.
Indian Defense Minister Manohar Parrikar told reporters on April 13 that buying 126 Rafales would be "financially a steep slope to climb," according to the Press Trust of India. Future deals would be government-to-government only, he said, without committing to a requirement for them to be made in India.
Modi has several options. He could orchestrate another jet sale that includes private companies to either replace or complement Hindustan Aeronautics, according to Manmohan Bahadur, a retired air force vice marshal.
Potential suitors could include the Mahindra Group or the Tata Group, among two of India's biggest companies. Dassault also signed an agreement in 2012 to explore defense projects jointly with Reliance Industries Ltd., the oil-refining giant controlled by Indian billionaire Mukesh Ambani.
Even so, finding an alternative to Hindustan Aeronautics to make one of the world's most advanced fighter jets may be even more difficult than trying to overhaul the company, said Justin Bronk at London's Royal United Services Institute for Defence and Security Studies.
'Not Ready'
"They're just not ready at all to produce a fighter jet of this complexity," Bronk said. "It's a loss for the Indian economy if they don't get a revised deal to produce in India."
The air force wants new warplanes to defend the north, where it has territorial disputes with both Pakistan and China. Now it's taking older aircraft out of service more quickly than new ones are being inducted.
India's defense ministry had allocated 26 billion rupees ($417 million) to buy new aircraft for the fiscal year through next March. Similar warplanes usually cost about $100 million apiece, according to Siemon Wezeman, a senior researcher at the Stockholm International Peace Research Institute.
While the 36-jet deal shows "weakness," it's likely that India will again buy more fighter jets from Dassault at some point, Wezeman said. "India has bought itself some time to find a solution. But that gap in its air defenses is only going to get bigger and something needs to be done."
Before it's here, it's on the Bloomberg Terminal.
LEARN MORE