Fancy Patagonia
How to wear fleece at the office, even if you don't work in tech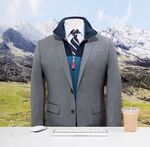 Polar fleece might as well be the official fabric of Silicon Valley. And as April's gray haze invades, no fabric is as practical. It's too hot for a heavy coat right now but not yet hot enough for no coat. Fleece is the right weight. Fortunately, it's getting a makeover.
Not since the late 1990s, when Old Navy released those obnoxious TV ads, have so many fuzzy pieces cropped up on city streets. And on fashion runways, too, where a trend toward athleisure—clothes that are athletic and leisurely—has led labels like Louis Vuitton and Patrik Ervell to produce upscale versions.
For the office, avoid mountain man vibes by wearing fleece items under a classic gray or navy suit, perhaps along with a tie. Patagonia, the Ventura (Calif.) company that originated the idea and has never wavered from it, still makes the best versions. Its lightweight material is made from a thin polyester that won't bulk up under your jacket, with color blocking to make it interesting. Choose a smaller size for a tailored fit, and opt for a vest instead of a jacket with sleeves; otherwise, the fabric may bunch near the wrists, like caulking. On weekends, lose the suit. The vest works with casual shirts, but maybe don't pair it with a tee.
Before it's here, it's on the Bloomberg Terminal.
LEARN MORE