Ex-NFL Player Aaron Hernandez Found Guilty of Murder, Sentenced to Life Without Parole
A former friend was shot six times
by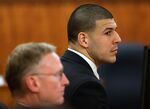 Former New England Patriots tight end Aaron Hernandez has been found guilty of first-degree murder in the death of Odin Lloyd, whose body was found in a Massachusetts industrial park in June 2013. Hernandez was sentenced to life without parole. 
Lloyd, who was a landscaper and semi-pro football player, was found dead on June 17, 2013, about a mile from Hernandez's home in North Attleboro, Mass. Lloyd was shot six times. 
Hernandez, 25, was arrested on June 26, 2013, and charged with first-degree murder, along with multiple weapons charges. 
Prosecutors said Hernandez and Hernandez's friends, Ernest Wallace and Carlos Ortiz, were with Lloyd on June 17, 2013. House cleaners testified that Hernandez owned guns and said that he tampered with his home security system. Prosecutors said that the day after Lloyd was found dead, Hernandez deleted text messages he had exchanged with Lloyd. Security footage from inside Hernandez's home also showed Hernandez holding what looked like a gun minutes after Lloyd was killed, according to the Associated Press.
Lloyd was dating the sister of Hernandez's fiancee at the time of his death. Wallace and Ortiz are due to face trial soon, according to the AP.
Hernandez, 25, has been on trial since January, in a Fall River, Mass., courtroom. Jurors deliberated for 35 hours before delivering the verdict.
Before it's here, it's on the Bloomberg Terminal.
LEARN MORE