Elaine Wynn Gains Adviser Backing in Wynn Resorts Board Vote
Christopher Palmeri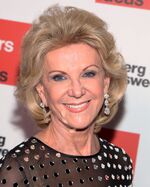 Elaine Wynn gained the backing of proxy adviser Egan-Jones in her campaign to be re-elected to the board of Wynn Resorts Ltd., the latest twist in a long-running feud with ex-husband Steve Wynn, the company's chief executive.
"The manner in which the existing board has handled the company's third-largest shareholder and fellow board member, Elaine P. Wynn, the resulting proxy contest, all too public dispute and the continuing multiyear decline in the company's stock price, compel us to support the dissident," Egan-Jones said Wednesday in an e-mailed report.
The Las Vegas-based casino operator is seeking to remove Elaine Wynn from its board. The Wynns are embroiled in a dispute over control of her 9.4 percent stake in the company. Investors are being asked to choose two board members at the April 24 annual meeting.
Egan-Jones in its report recommended clients not vote for the two nominees put forth by the Wynn Resorts board: John J. Hagenbuch and J. Edward Virtue.
"We strongly disagree with Egan-Jones' recommendation," Wynn Resorts said in a statement. "In addition to failing to recognize Elaine Wynn's inherent conflict of interest, Egan-Jones also failed to give proper weight to the board's commitment to search for new independent director candidates, prioritizing women and diverse candidates, and to increase the board's size accordingly by the end of 2015."
Advisers Split
The Egan-Jones recommendation shows that proxy advisers, which help large shareholders decide how they'll vote at annual meetings, are divided over the Wynn dispute. Glass, Lewis & Co. told clients on Monday to vote for the company's nominees and not Elaine Wynn, saying it believed management's position that her legal dispute is influencing her board decisions.
Institutional Shareholder Services Inc., another adviser, said last week its clients shouldn't vote for any of the nominees, citing what it said were long-standing problems with executive pay and perks at Wynn Resorts.
Wynn rose 1.6 percent to $129.55 at 2:15 p.m. in New York. The stock had declined 14 percent this year as of Tuesday.
Before it's here, it's on the Bloomberg Terminal.
LEARN MORE