Duke Freshmen Winslow, Jones Leaving for NBA After NCAA Title
Rob Gloster and Mason Levinson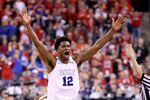 Duke University freshmen Tyus Jones and Justise Winslow will leave school for the National Basketball Association, a week after teammate Jahlil Okafor made the same announcement.
Winslow said on Tuesday that he planned to forgo his college eligibility and turn pro after helping lead the Blue Devils to the men's national championship earlier this month. Jones, the Final Four's Most Outstanding Player, on Wednesday also ended his college career.
"I am faced with the tough decision of returning to a place I love or pursuing my next dream," Jones said in a statement on the school's website. "Even though I am entering the NBA Draft, I will forever be a Duke Blue Devil."
Jones was an All-Atlantic Coast Conference third-team member last season after averaging 11.8 points, 5.6 assists, 3.5 rebounds and 1.5 steals per game. He scored a game-high 23 points in Duke's championship-game win over Wisconsin.
Winslow, who averaged 12.5 points and 6.5 rebounds, said his dream of winning a college title had come true and that "I believe it's time to take the next step on my career path" by entering the NBA.
The two join Corey Maggette, Luol Deng, Kyrie Irving, Austin Rivers, Jabari Parker and Okafor as Duke freshmen who left for the NBA after one season of college basketball.
"From everything we have found out, Justise is projected to be a high lottery pick and we believe that to be true," Duke coach Mike Krzyzewski said on Tuesday. "This is a great time to take advantage of this opportunity."
Okafor is projected to be the second pick in the draft, with Winslow going fifth and Jones 17th, according to NBADraft.net.
Before it's here, it's on the Bloomberg Terminal.
LEARN MORE