Designer of Hillary Clinton-Inspired Font Speaks
Rick Wolff looks back at the presidential candidate's logo and his own experimentations.
By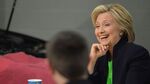 On Monday afternoon, less than 24 hours after Hillary Clinton's campaign and logo had debuted, designer Rick Wolff gave the Internet a present. He had drawn up the other 25 letters of the alphabet in the style—bold blue, with a red arrow—of the Hillary "H."
The design took off. By Tuesday afternoon, the so-called Hillvetica font had been used to illustrate Benghazi memes, Internet in-jokes, slogans for other candidates—everything kitschy. "The letters spelling BENGHAZI work well," said Wolff in an e-mail interview. "Someone out there knows their kerning!"
On Tuesday night, after the Washington Post had created a word generator with the font and made parodies completely idiot-proof, Wolff looked back at the logo and his own experimentations.
"The very exercise of getting an initial for a unifying symbol is so derivative of the Obama campaign," he said. "I wonder if they'd explored a lowercase 'h' with an arrow pointing upward, which is where I like my politicians aimed. My first reaction to it was, why a right arrow? Then I realized… forward. We read from left to right. If I were working on the campaign, I'd tell people that the logo is facing you, and the arrow is facing toward its left! (This may explain why I don't work on political campaigns.)"
How tricky was it to copy? "The whole thing took about 3 hours, starting with an existing font (font mavens may be able to tell which), with the more difficult numbers taking about 1.5 hours," said Wolff. "What's worth observing with Mrs. Clinton's logo is, it's unmistakeable at a small size, like a Twitter bird silhouette or Facebook's 'f' in a box. More of an icon, that also gets used as a logo."
According to Wolff, no other announced 2016 candidate sported a logo that was so ripe for tribute or parody. "Marco Rubio uses his name in very circular letters, which is a logo that cannot serve as an icon," he said. "Should he make one, he's likely to take the 'm' from it and do something to it. If he does, there'd be no point in releasing his font; it surely must exist somewhere. Maybe."
Yet the first campaign to make use of the parody font was...the campaign of Hillary Clinton. 
Did Wolff share Clinton's politics? Not quite. "I was a Libertarian Party activist in the early 90s, and I sway that way still, but have taken to not voting lately, sticking to my design work," he said. "Sure enough, the topic of design came calling on me…and I had an offbeat idea. Not so much a satirical commentary, as an experiment. An experiment in striking while the iron is hot, which seems to get rewarded on social media."