Chris Christie Makes It Clear He Supports Mandatory Vaccines
The likely presidential candidate says he supports mandatory immunizations.
By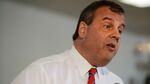 Chris Christie, asked at a New Hampshire town hall meeting on Wednesday about the touchy subject of vaccinations, this time made it clear he supports mandatory immunizations.
When New Jersey's governor was asked by an audience member on Wednesday whether he would allow people to opt out of vaccines if they had objections, the second-term Republican and potential candidate for president said, "You can't count on me," earning him a round of applause.
Christie's earlier comments on vaccinations drew condemnation. During a trip to London in February—amid an outbreak of measles back in the U.S.—the governor said that parents needed "some measure of choice" on childhood immunizations.
His office later sought to clarify his remarks, saying in a statement that "the governor believes vaccines are an important public health protection and with a disease like measles there is no question kids should be vaccinated."