China Carmakers Will Challenge West in Iran When Sanctions Lift
Mathieu Rosemain and Golnar Motevalli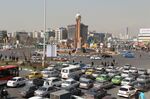 When Mohammad Kolahi wanted to replace his French Peugeot sedan this year, the Tehran business consultant looked east instead of west.
A friend was already driving a JAC J5, an Italian-designed four-door assembled in Iran for Chinese carmaker Anhui Jianghuai Automobile Co. Kolahi paid 570 million rials ($20,300) for an automatic-transmission version about a month ago -- or about 30 percent less than other comparable new cars he considered.
"It's a beautiful design, and relative to its price and what else is on the market, it's very good," Kolahi said. "I see so many of these JACs now on the streets."
As Western automakers prepare to re-enter the Middle East's highest-volume car market, they'll find a landscape changed by new competitors from China. Led by Chery Automobiles Co., Lifan Industry Group Co. and Jianghuai, the Chinese have benefited from the vacuum left by the likes of PSA Peugeot Citroen, which once counted Iran as its biggest market outside France. The Chinese will probably boost their share of the Iranian market from about 1 percent in 2011 to about 9 percent of 1.17 million units in 2016, according to researcher IHS Automotive.
European manufacturers aim to return to the country if sanctions are eased under a proposed nuclear pact. Iran and the U.S. have agreed to a framework for a deal limiting Iran's ability to enrich uranium, and the two sides are working to finalize an accord by June 30. There's no guarantee they'll be successful. U.S. lawmakers are demanding a say on the final accord, while Iran's president Hassan Rouhani has said that without an end to sanctions, there won't be a deal.
Chery, Lifan and Jianghuai all have local partners that build cars in Iran from kits shipped from China. Chinese companies' share of this segment also more than quadrupled to 8 percent between 2011 and last year, IHS estimates.
Local Partnerships
The Chinese "are aggressive," IHS analyst Stephanie Vigier said. "Yes, they've benefited from the sanctions. Yes, they've been multiplying joint ventures and partnerships with local manufacturers. And yes, they've replaced other foreign carmakers," including Fiat Chrysler Automobiles NV and Mazda Motor Corp., she said.
The Europeans face growing competition from the Chinese. Cars like the MVM 110, a made-in-Iran version of Chery's QQ hatchback, are a common sight in Tehran's traffic alongside the ubiquitous Kia Motors Corp. Pride and Peugeot's 206 and 306.
Chinese carmakers are moving up-market, too. At a glass-walled Tehran dealership for China's Geely Automobile Holdings Ltd., the Emgrand X7 SUV starts at 1.13 billion rials, about a third less than a similar SUV from Toyota Motor Corp. The X7 is the dealership's third-best-selling vehicle as sanctions have limited the availability of European and Japanese models, according to an employee who asked not to be identified because he wasn't authorized to speak with the media.
Shipping Kits
The French sold more kits than any of their European competitors in Iran before being forced to halt exports. In 2012, Peugeot said it sold a record 473,000 units in Iran. The Paris-based company still had 29 percent of the market last year, IHS estimates, because local carmakers had some kits left over and suppliers outside France may have continued shipping parts to Iran.
If sanctions remain in place and Peugeot discontinues the old models currently available in Iran, IHS estimates that Peugeot's market share will probably drop to 11 percent next year.
Once sanctions are lifted, the French automaker is poised to sign another joint venture agreement with Iran Khodro Co., its previous partner and Iran's biggest carmaker, Peugeot spokeswoman Antonia Krpina said. Iran Khodro declined to comment, citing the sensitivity of the nuclear negotiations.
Renault Talks
Renault is also in talks with Iran Khodro, according to a person close to the French company, who asked not to be named because the information isn't public. If sanctions are lifted, Renault would consider introducing its Clio hatchback and Captur compact SUV, as well as entry-level vehicles such as the Logan sedan and Duster SUV, the person said.
Cars like these may turn the Chinese boom into a short-lived phenomenon once sanctions are lifted, as Chinese vehicles still suffer from a reputation for low quality in Iran, according to IHS. Chery declined to comment, and calls to Lifan's general line were not answered. Jianghuai didn't respond to a message seeking comment.
"Of course everyone wants the best they can afford," said Tehran consultant Kolahi. "Ideally, I'd like to buy a BMW."
Before it's here, it's on the Bloomberg Terminal.
LEARN MORE