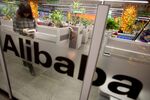 Forget the old image of thousands of workers assembling gadgets or stitching sneakers; the new China is increasingly about Internet sales, day-trading stocks and the rise of services.
In the first quarter, services made up a record 51.6 percent of gross domestic product, 8.7 percentage points more than manufacturing. That's up from 48.2 percent in all of 2014, and is helping cushion the nation's slowdown.
"The rise of services in the Chinese economy is the really big story,'' said Jim O'Neill, the former chairman of Goldman Sachs Asset Management. "The success of the service sector is at the center of any stability of the new normal and allows the government to absorb more people looking for work as urbanization continues, and will go hand in hand with China moving more towards middle to higher income status.''
The following chart shows how retail sales growth has overtaken industrial production:

Online transactions at Alibaba Group's EBay-like Taobao Marketplace and Amazon-like TMall.com surged almost 40 percent to 598 billion yuan ($96 billion) last quarter as Chinese shopaholics clicked their way to purchases, according to Barclays estimates. The government predicts e-commerce transactions will reach 18 trillion yuan this year.
The frenzy that's helped China's stock market nearly double in the past year is benefiting brokerages like Citic Securities and Shenwan Hongyuan Group, with a record 1.7 million new trading accounts opened last week alone. Another craze hitting China is its unregulated Internet financing market, a burgeoning field attracting amateur bankers such as fireworks makers and iron-ore importers.
The following chart underscores the shift from old to new economy drivers:

Before it's here, it's on the Bloomberg Terminal.
LEARN MORE