Central Banks Rule in Gilt Market as Yields Defy Election Nerves
David Goodman and Lukanyo Mnyanda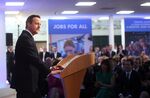 U.K. bond investors have bigger concerns than who wins the election on May 7, with the past five years showing that central bankers, not politicians, hold power in the debt market.
Government borrowing costs have plunged since Prime Minister David Cameron inherited the biggest budget deficit in British peacetime in 2010, as the Bank of England and other central banks unleashed unprecedented monetary stimulus to combat the financial crisis.
Now, as some investors prepare for volatility amid the tightest U.K. election race in a generation, bond markets are focused on when BOE Governor Mark Carney and his Monetary Policy Committee might end more than six years of record-low interest rates, investors and strategists say.
"Central bank actions, both inside and outside of the U.K., will have far more bearing on how gilts perform before and after the election," said Michael Riddell, a London-based money manager at M&G Group Plc, which oversees about $379 billion.
Bond yields have collapsed across the developed world over the past five years after central banks in the U.K., Europe, the U.S. and Japan pumped trillions of dollars of extra liquidity into markets through quantitative easing.
In the euro area, investors are now prepared to pay to lend to Portugal four years after it was bailed out. Yields are at record lows in Italy and Spain, countries that were also perceived to be in danger of losing market access during the sovereign-debt crisis.
Greek Crisis
The dominant influence of central banks has made it harder for the Conservatives to attack the Labour opposition for its less austere deficit-reduction plans. Before the last election, Cameron warned that Britain could suffer a Greece-style crisis without firmer action to tame a deficit then running at more than 10 percent of economic output. If investors demanded more interest to lend to the U.K. "you run the risk of not being able to meet your obligations," he said in 2009.
As it turned out, Britain was stripped of its top credit rating in 2013 -- something Chancellor of the Exchequer George Osborne had said would cost Britain its credibility with markets -- and a plan to erase the budget deficit within a parliamentary term was never achieved as the debt crisis escalated. The U.K. had a shortfall of 5 percent of gross domestic product in the latest fiscal year and the national debt has increased by more than a half to 1.5 trillion pounds ($2.2 trillion.)
'Lot of Noise'
None of that has hurt demand for gilts. Three weeks before an election in which neither the Tory party nor Labour is likely to gain enough votes to govern alone, gilts are trading at yields close to all-time lows amid speculation the BOE will keep the benchmark rate at 0.5 percent. With inflation set to dip below zero, investors are all but ruling out any increase before the middle of 2016, Sonia contracts show.
The prospect of political turmoil has sent the pound to five-year lows against the dollar and pushed one-month implied volatility to its highest since 2010. By contrast, the 10-year gilt yield is little more than 20 basis points above the record low reached in January at 1.55 percent. At the same point before the last election it was over 4 percent.
"The bond market is not where any volatility is likely to be," said M&G's Riddell. "There's a lot of noise regarding the election, which is unsurprising given that brokers want people to trade. But I don't think this noise is justified."
EU Referendum
Who wins the election might influence BOE policy. A government led by Labour, which is promising less budget cutting than the Tories and may have to rely on the anti-austerity Scottish National Party, could lead to interest rates rising earlier than markets expect, say AXA Investment Managers and Blackrock Inc.
For UBS Group AG, there is little to choose between the deficit-reduction plans of the two main parties, and monetary policy and the prospect of a referendum on leaving the European Union should the Tories be re-elected are far more significant factors.
"If you look beyond the next three months, the central bank will be the main issue," said Joakim Tiberg, a rates strategist at UBS in London. "Fiscal policy is potentially an issue if we get weak government and no strong coalition. However, if we get either a Labour-led or a Conservative-led government, both have relatively credible fiscal policies in place. I don't think it's going to be a big issue."
Before it's here, it's on the Bloomberg Terminal.
LEARN MORE