Bernanke Makes Case for Keeping Fed's Balance Sheet Large
Matthew Boesler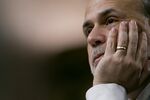 U.S. monetary authorities ought to consider making the central bank's big balance sheet a permanent fixture, said former Federal Reserve Chairman Ben Bernanke.
"I wonder if the case for keeping the balance sheet somewhat larger than before the crisis has been adequately explored," Bernanke said on Wednesday in prepared remarks to an event at the International Monetary Fund in Washington. "Indeed, most other major central banks have permanently large balance sheets and are able to implement monetary policy without problems."
Under Bernanke's leadership, the Fed flooded the banking system with $2.6 trillion of excess reserves through bond purchases known as quantitative easing, a program designed to combat the worst financial and economic crisis since the Great Depression by holding down longer-term borrowing costs.
Bernanke left the central bank in January 2014, and the buying ended in October.
Ballooning the balance sheet to $4.5 trillion versus around $900 billion before the crisis has made it harder for the Fed to control its benchmark federal funds rate, by eliminating the need for banks to borrow reserves.
In response, policy makers have had to design new tools to raise rates when the time comes, a process that officials believe will begin later this year.
Two key tools are overnight reverse repurchase agreements, which sop up excess cash from money-market mutual funds, and the interest that the Fed pays banks on excess reserves.
Idiosyncratic Market
"The fed funds market is small and idiosyncratic," Bernanke said. "Monetary control might be more, rather than less, effective if the Fed changed its operating instrument to the repo rate or another money market rate."
In an overnight reverse repo, the central bank borrows cash from counterparties, mostly money-market mutual funds, and posts securities from its bond portfolio as collateral. The next day, the Fed returns the cash plus interest at a specified rate and takes back the bonds.
Policy makers have said they aim to shrink the balance sheet in the coming years and "hold no more securities than necessary to implement monetary policy efficiently," according to a statement in September.
Officials have expressed concern that offering too many reverse repos to money funds for too long could drain business away from the funds' traditional repo market counterparties. That might harm those relationships, which form a vital part of the plumbing of the financial system. Moreover, the presence of the Fed as a risk-free counterparty could exacerbate strains on bank funding in times of future crisis.
Bernanke said he takes those concerns seriously, but added that "the overall increase in liquidity in the financial system that would be the result of a larger Fed balance sheet would probably itself be a stabilizing factor, so that the net effect on stability is uncertain."
"It's a complex issue that deserves more discussion," Bernanke said. "My aim today is to contribute to that discussion and encourage further public debate."
Before it's here, it's on the Bloomberg Terminal.
LEARN MORE