Bank of Canada Leaves Rate Unchanged as Oil Shock Fades
Greg Quinn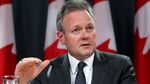 Bank of Canada Governor Stephen Poloz is becoming Canada's leading optimist projecting a faster return to target on inflation amid a generally improving economy.
Growth will quicken to a 2.8 percent annualized pace in the third quarter, the central bank said Wednesday, exceeding all forecasts in a Bloomberg survey. Poloz kept the benchmark interest rate at 0.75 percent and said the positive side of the story will dominate in the second half, lifting inflation back to the 2 percent target almost a year ahead of schedule.
It's a stark change from January, when Poloz shocked markets by cutting rates by a quarter point, a move he called "insurance" against the economic damage wrought by collapsing oil prices. He also told the Financial Times last month Canada's economy was atrocious in the first quarter. The statement released by the bank Wednesday signaled the worst of the oil-price shock may be over, with improvements ranging from early signs of labor-market strength to gains in the non-energy exporting sector.
"Those positive signs are there and right now you can't see them because the oil price shock has overwhelmed them," Poloz said at a press conference in Ottawa. "We are confident that the story is taking place."
Single Cut
Economists still say another rate cut is possible unless growth accelerates in the next few months. However today's comments from Poloz prompted some traders to pare bets on more cuts. Derivative swaps show the chances of lower rates by the end of the year fell to about 45 percent, from about 56 percent yesterday.
The Governor's reliance on the single rate cut contrasts with recent comments about "serial disappointment" in global demand, and would mark the first time in at least two decades the bank has moved just once after a shock.
"They firmly believe this will work wonders in bringing growth back," said Jimmy Jean, a strategist in the fixed-income group at Desjardins Capital Markets in Montreal. "It makes you nervous: are we really going see that rebound in the expected timeframe or is it going to drag on?"
The bank reiterated the world's 11th-largest economy will return to full output by the end of 2016, as the damage from oil "will be more front-loaded than predicted in January, but not larger," policy makers said in a statement accompanying the rate decision. "Risks to the outlook for inflation are now roughly balanced and risks to financial stability appear to be evolving as expected."
The bank cut its forecast for economic growth this year to 1.9 percent, from the 2.1 percent pace it predicted in January, on a drop in investment linked to cheaper oil. It lifted its outlook for 2016 growth to 2.5 percent, from 2.4 percent.
Dollar Reaction
Canada's dollar reacted to Poloz's change in tone, reversing losses after the 10 a.m. decision and climbing to the highest in two months. It traded 1.5 percent higher at C$1.2301 versus the U.S. dollar at 3:07 p.m. in Toronto. Canada's dollar is still down 11 percent over the past year.
The yield on government benchmark two-year yields rose 5 basis points to 0.56 percent.
All 22 economists in a Bloomberg survey expected no change today, in contrast to the January cut that no one predicted.
"The jury is still out" on whether another rate cut is needed, said Mark Chandler, head of fixed-income research at RBC Capital Markets in Toronto. "It's the data coming in that changes the ebb and flow" of future decisions, he said.
Canada joins Singapore, India and Australia among countries that are pausing after unexpected cuts earlier in the year. Poloz billed his January cut as "insurance" for the Group of Seven's biggest crude exporter and since then reports on output, employment and housing have all beaten economist forecasts.
'Atrocious' Economy
Poloz's previous statements about an economy that was weaker than it seemed provided fodder to opposition lawmakers to criticize Prime Minister Stephen Harper before elections in October. Harper has ruled out using government finances to spur economic growth. His Finance Minister Joe Oliver is scheduled to present the 2015-16 budget later this month.
Poloz put the past behind him Wednesday, cutting his estimate of first-quarter growth to zero from 1.5 percent and saying growth this quarter will reach 1.8 percent. Poloz's first-quarter figure is below the 1.1 percent median estimate in a Bloomberg economy.
"Our outlook is for the positives to begin to reassert themselves during the second quarter, and to do so clearly in the second half of the year," Poloz said at the press conference.
The drop in prices for crude oil, Canada's biggest export, reduced real gross domestic income by 0.7 percent in the fourth quarter and the relative prices of exports to imports by 8 percent, the bank said today. Oil and gas investment will drop 30 percent this year, while non-energy investment will grow 7 percent over the next few years on average, the report said.
Downside Risks
To be sure, the bank said today that significant slack remains in the economy and oil prices could lead to problems beyond the first quarter. "Over the remainder of 2015, there continue to be important downside risks to oil prices, since it will take time for cuts in investment to be reflected in reduced production," the bank said.
Housing markets in Alberta, home to the largest heavy oil deposits, are vulnerable to a correction, as are those in Toronto and Vancouver after "robust price growth," the bank said.
Before it's here, it's on the Bloomberg Terminal.
LEARN MORE