Will Marco Rubio's Appeal Among Florida Hispanic Voters Translate Nationwide?
He's done it in Florida, but the Hispanic voting bloc is more nuanced outside of the Sunshine State.
By and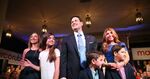 Sipping café con leche outside Miami's Versailles restaurant, Nery Alfonso smiles wide at the thought of Marco Rubio's Republican presidential campaign. Brought to the U.S. as a young girl from Cuba, Alfonso sees a reflection of her own story as Rubio, the son of Cuban immigrants, talks about growing up in a blue-collar neighborhood, the son of a bartender and hotel maid.
"Marco Rubio's principles are my principles," said Alfonso, her chestnut hair tied back, a purse slung over her shoulder. "His parents left Cuba and came here for a better opportunity and he has that in his character. I'd support him for that reason, and that reason alone."
Alfonso's son? Not so much.
"Marco's a great guy—I saw him and his family at Mass two weeks ago," said Adrian Alfonso, a 35-year-old accountant, as he drank coffee with his mother. "But I don't think he can win. Jeb Bush appeals to more people. He's married to a Mexican, and he can get the Hispanic vote."
It's a startling admission, considering that Rubio isn't just married to the daughter of Colombian immigrants. He would be the first Hispanic president.
Rubio's personal story is a central thrust of his presidential campaign, which he announced on Monday at Miami's Freedom Tower, an emotional location for thousands of Cubans, like Nery Alfonso, who were processed and documented there by the federal government after fleeing Fidel Castro's government in the 1960s.
"I have a debt to America I must try to repay," Rubio declared Monday, flanked by oversize U.S. flags and standing beneath white stars projected on to the ceiling. "This isn't just the country where I was born; America is the place that changed my family's history.
But Rubio's ability to reach his own generation of Cuban-Americans in Florida, and the broader Hispanic voting bloc across the country will help determine how long his campaign lasts.
While two-thirds of the nation's 1.8 million Cuban-Americans live in Florida, creating a powerful voice in what has been the largest electoral prize for more than a decade, they're just 3.3 percent of the 54 million Hispanics in the U.S., Census data show.
On Monday, Rubio positioned himself as a leader for the next generation, saying "too many of our leaders and their ideas are stuck in the twentieth century.
"Now, the time has come for our generation to lead the way toward a new American century," Rubio said to thunderous applause inside the Freedom Tower.
Carlos Guitierrez, a Cuban-American and former U.S. commerce secretary under then-President George W. Bush, said Rubio needs to "cross over" to other Hispanic communities, such as the large Mexican populations in Texas and California.
"He's going to have to do some old-fashioned retail politics, because people don't know him," Gutierrez, a former chief executive officer of cereal maker Kellogg Co., said. "They haven't really followed him because he is a Cuban-American, as opposed to people seeing him as typical Hispanic."
Rubio's crossed over before. In his 2010 Senate race, he won a majority of the Hispanic vote, bucking a nationwide trend that favored Democratic candidates, according to an analysis by the Pew Research Center. Rubio, a favorite of the conservative Tea Party movement that year, took 55 percent of the Latino vote in a race that also featured then-Governor Charlie Crist running as an independent and Democrat Kendrick Meek.
Yet two years later, Obama won 60 percent of Florida's Hispanic vote, including 48 percent of the Cuban vote in the state, according to exit polls from Miami-based Bendixen & Amandi International, a polling firm that worked for Obama in that election and specializes in Hispanic community surveys. Obama's share of the Cuban vote, which nearly doubled the share Al Gore collected in 2000, was attributed to a generational shift in political views.
Those statistics shook the Republican Party, which has lost four of the past six presidential elections. GOP officials issued a report shortly after the election saying that a key to future success will be targeting Hispanic voters. The report called on the party to "embrace and champion comprehensive" changes to immigration law. Rubio co-authored a bill to do just that, but it upset so many conservative voters that House leaders refused to consider it. Rubio dropped in the polls and has since distanced himself from the effort.
On Monday, Rubio made only brief mention of immigration reform, saying better paying jobs would result if the country can reform the tax code, cut regulations, control spending, repeal and replace Obamacare and "modernize our immigration laws."
In Iowa and New Hampshire, Republican voters often identify Rubio's personal story as a way the party can attract more Hispanic voters to the fold. And in Florida, Rubio's hard line against normalizing relations with Cuba, support for keeping Guantanamo Bay open, and opposition to gay marriage appeals to the first wave of Cuban immigrants.
"Dreams are coming true," Esteban Bovo, a 77-year-old survivor of the U.S.-backed Bay of Pigs military invasion, said after watching Rubio's speech. "It was a very, very important speech not directed at us the older generation but focusing more on the generation that is coming ... With all the things happening in the world, the next generation is facing a bleak future."
Providing a glimpse of the Rubio's challenge outside Florida, 36 percent of Hispanics in the U.S. had a unfavorable view of Rubio, compared to 31 percent who had a favorable view, according to a November 2014 poll from Latino Decisions, a Seattle-based firm that specializes in Hispanic polling and advocates for easing immigration laws.  About one-third of Latinos said they'd never heard of Rubio, or had no opinion of him.
Rubio was viewed unfavorably by 42 percent of Latinos in Nevada, where Rubio lived as a child and which holds an early presidential nominating contest. But it was unclear how many of those respondents would participate in a Republican caucus. In a Bloomberg national poll released this week, 63 percent of Republicans said they "seriously"  or "might" consider his candidacy, giving him one of the better ratings among potential 2016 contenders. 
If Rubio did emerge as the party's nominee, it's unlikely he could duplicate the success he had with Hispanic voters in his Senate race, said Fernand Amandi, managing partner at the Bendixen & Amandi International polling firm.
"He was the lucky beneficiary of weak competition that inexplicably ceded the field in the Hispanic community," Amandi said in an interview. "Neither Crist nor Meek ran any kind of campaign or spent any time in Hispanic communities. They never ran a campaign that said, 'Here's what Marco Rubio stands for.'"
Democrats indicated they wouldn't repeat that mistake again.  The Democratic National Committee on Monday issued a news release entitled, "Five Things Latinos Need to Know About Marco Rubio," that said Rubio of "ditched" his immigration plan, and said he wanted to shut down the Homeland Security Department to protest Obama's moves to protect certain immigrants from deportation. In that debate, Rubio said he opposed shutting down the department, but also wanted Republicans to hold firm on a measure withholding funding as a way to force Democrats to negotiation on a border security measure.
"Marco Rubio is a champion for the failed economic policies of the past that have been devastating for hardworking middle class families," Mo Eleithee, communications director for the Democratic National Committee, wrote in a memo Monday to "interested parties."
But those criticisms may not hold if Rubio can inspire the same passions he stirs back home outside of Florida.
"He's an example of what you can accomplish in this country and become if you are willing to work hard," said 71-year-old Elvira Lagoa, who arrived from Cuba in 1974. "He is an example of what Cubans who are honest and want to contribute to this country can do. I came here for freedom."