VW Turmoil Pushes Porsche Chief to Forefront of CEO Race
Christoph Rauwald and Elisabeth Behrmann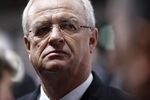 A rift between Volkswagen AG's two most senior executives threatens to create a power vacuum that's set to hasten the search for a new leader.
Chief Executive Officer Martin Winterkorn suffered a public dressing-down by Chairman Ferdinand Piech, who told Der Spiegel magazine on Friday that he had distanced himself from his former confidant and no longer wants him as the next chairman. Piech didn't say why he'd lost faith in the CEO.
With Winterkorn's prospects of getting his contract extended beyond 2016 now in doubt, Europe's largest carmaker will probably need a replacement sooner than planned. It'll be a complicated position to fill, with the candidate needing the backing of the controlling families, VW's home state of Lower Saxony and labor unions.
Matthias Mueller, who oversees the Porsche sports-car division, may hold the best cards as his background in engineering and his operational experience meet Piech's specifications. He also enjoys a broad support base, particularly from the families that control Volkswagen.
"Piech's comments have caused a lot of agitation," said Marc-Rene Tonn, a Hamburg-based analyst at M.M. Warburg. "It's clear there are significant differences of opinion on a number of matters."
The rare public comments from Piech, 77, a grandson of VW Beetle creator Ferdinand Porsche, sent shock waves through Volkswagen's headquarters in Wolfsburg, Germany, and revealed deeper divisions as power players battle to set the agenda for the era after Piech steps aside in 2017. An orderly transition that would have seen Winterkorn's tenure prolonged before he moves on to the chairman post now seems unlikely.
Smooth Transition
A smooth transfer would have given recent recruits -- new trucks chief Andreas Renschler and former BMW AG executive Herbert Diess, who is being brought in to succeed Winterkorn in running the VW brand -- time to prove themselves for the top job. Both are engineers and would therefore fit Piech's requirement for the role, unlike Audi boss Rupert Stadler.
Another internal candidate is Winfried Vahland, 60, who runs the Czech brand Skoda. Volkswagen and officials at the brands declined to comment on succession discussions.
Mueller, 61, has a degree in information technology and has led the Porsche division since October 2010 following a career at the namesake VW brand and Audi. He was appointed in February to Volkswagen's management board, which comprises the parent company's top executives, including Winterkorn, and is appointed by the supervisory board.
Baronial Style
Mueller could help mend fences with his more carefree demeanor than Winterkorn, who is typically seen in public sporting boxy double-breasted suits. The Porsche boss, with silver hair, chunky sideburns and azure blue eyes, personally takes part in Porsche fan events, demonstrating a hands-on style that appeals to the Porsche and Piech families.
Last month, Mueller, who has an apartment in a trendy part of Stuttgart, caused a stir when he suggested he would consider the top VW post if asked. He claimed that a comment made earlier this year about being too old to succeed Winterkorn was misinterpreted.
At stake is Piech's legacy and the future of the automaker, which has become a behemoth with 12 brands and more than half a million employees. His style of consolidating power in the hands of a few trusted managers left the company slower to react to the demands of globalization.
'Concentrated Power'
Organizational deficiencies contributed to a floundering U.S. business and thin profit margins at the namesake VW brand, even as profits from Porsche and Audi and surging demand in China fueled growth worldwide.
"In a thriving business like the auto industry, too much power concentrated in the hands of the CEO seems out of step with modern times," Ingo Speich, a fund manager at Union Investment, said by e-mail.
Piech, whose term as chairman runs out in April 2017, joined Audi 40 years ago from Porsche, which was an independent company at the time, after the family banned its members from operational roles at the maker of the 911 sports car. He laid the foundations for Audi's rise to become the world's second-biggest luxury-car brand. He was promoted to Volkswagen CEO in 1993 and then took the chairman role in 2002.
During Porsche's effort to takeover Volkswagen in 2009, Piech eventually sided with the German state of Lower Saxony and VW's unions to oppose the deal, which was backed by his cousin Wolfgang Porsche. While Piech's rift with his relative, who is now chairman of the holding company that owns a majority of VW's common stock, has resurfaced, his former allies have turned their backs, saying they support the CEO.
Wolfsburg Throne
The dispute comes as a surprise as the two executives have worked side by side for decades and both obsess about details on the company's cars including measuring gaps between body panels.
The drama in Wolfsburg carries a whiff of the intrigues that plague the medieval fantasy kingdom of Westeros in the television show "Game of Thrones," said Arndt Ellinghorst, an analyst at Evercore ISI, said in a report to clients.
"At this point, answering who will succeed to the top position in Wolfsburg at VW is about as easy as predicting who will end up on the throne in Westeros," Ellinghorst said.
Before it's here, it's on the Bloomberg Terminal.
LEARN MORE