Corinthian Fined $30 Million for Inflating Job Figures
Janet Lorin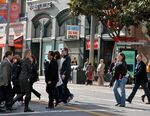 The U.S. Education Department fined Corinthian Colleges Inc., the for-profit education chain, $30 million for misrepresenting job-placement rates to current and prospective students.
Corinthian's Heald College misstated 947 placement rates that inflated the employment prospects of graduates, the agency said.
Heald, a chain of business schools, paid temporary agencies to hire its graduates to work at jobs on its own campuses for as little as two days and counted them as employed, the department said. It also counted placements outside students' field of study, such as an accounting graduate working at a Taco Bell restaurant, according to the agency.
"This should be a wake-up call for consumers across the country about the abuses that can exist within the for-profit college sector," U.S. Education Secretary Arne Duncan said in a statement. "We will continue to hold the career college industry accountable and demand reform for the good of students and taxpayers."
Corinthian, owner of the Everest, Heald and WyoTech for-profit schools, collapsed last summer after the Education Department curtailed its access to federal student aid. The company agreed to sell half of its 107 campuses to Education Credit Management Corp. in November amid allegations that it falsified grades, attendance and job-placement rates.
Corinthian considers the agency's conclusions regarding attendance and placement flawed because it relied on faulty data and analyses discovered and disclosed more than 18 months ago, Joe Hixson, a spokesman for the Santa Ana, California company, said in an e-mail.
Heald has a "well-dcoumented track record of providing quality education and significant value to its students for more than 150 years," Hixon said.
No Sale
Corinthian schools in California, including Heald, weren't part of the sale to Education Management. The state's Attorney General Kamala Harris refused to sign off on the deal, saying she preferred to pursue restitution for students. She reiterated that today.
"I applaud the Department of Education for taking strong action to hold Heald College accountable for its egregious misconduct," Harris said in a statement. "I urge the department to act quickly to relieve these students from their student loan debt burdens." '
Before it's here, it's on the Bloomberg Terminal.
LEARN MORE