Bond Volatility Falls in Face of Dimon to Lagarde Storm Warnings
Wes Goodman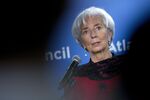 Where's the bond volatility that people are warning about?
International Monetary Fund Managing Director Christine Lagarde said the world could be in for a "bumpy ride" when the Federal Reserve raises interest rates. JPMorgan Chase & Co. chief Jamie Dimon said a roller-coaster day in Treasuries Oct. 15 was a "warning shot."
The alarm bells haven't upset Treasuries, as trading calmed in March and April. Bank of America Corp.'s MOVE Index of volatility in the world's biggest bond market fell to 75.76 Monday, the lowest level in three months. The average for the past decade is about 90.
The lull reminds one trader in Asia of the Robert De Niro movie "Backdraft," based on the phenomenon of a dying fire that roars back to life as it finds a new supply of oxygen.
The period of calm now is being caused by slow inflation and a Fed that has said it won't raise interest rates this month, according to Park Sungjin, the head of asset management at Meritz Securities Co. in Seoul.
"When inflation comes, it will be problematic," Park said. "The Fed will raise interest rates. We haven't seen the fire yet, but the market is about to be burned. Yields levels are too low." Park said he's avoiding Treasuries.
The benchmark U.S. 10-year yield declined one basis point, or 0.01 percentage point, to 1.92 percent as of 6:49 a.m. New York time, according to Bloomberg Bond Trader data. The yield has fallen from 2.17 percent at the end of 2014. The 2 percent note due in February 2025 rose 1/8, or $1.25 per $1,000 face amount, to 100 3/4.
Worldwide Volatility
Bond investors are bracing for unrest. Prudential Investment Management is trading more futures because they're both liquid and anonymous. State Street Corp. is making smaller bets. Pioneer Investments is looking for returns in higher-quality securities that are easier to sell.
Lagarde said last week that volatility may be a worldwide issue. "Liquidity can evaporate quickly if everyone rushes for the exit at the same time -- which could, for example, make for a bumpy ride when the Federal Reserve begins to raise short-term rates," she said.
Dimon said volatility in Treasuries is being caused by central-bank bond purchases and regulations that have led companies to step back from making markets. The next financial crisis may be exacerbated by a shortage of the securities, he said in a letter to shareholders.
'Unintended Consequences'
His view is supported by Fed Bank of New York Executive Vice President Simon Potter, who said in a speech Monday that "there could be unintended consequences of these regulatory changes, including the possibility that sharp intraday price moves become more common."
Russ Koesterich, the chief investment strategist at BlackRock Inc., warned as recently as March that volatility will rise as the Fed prepares to increase borrowing costs.
For Meritz's Park, it's the calm before the storm.
Fed policy makers said in their last statement March 18 that a rate increase at their next meeting April 28-29 "remains unlikely." The central bank's preferred measure of inflation has been running below its 2 percent target for almost three years.
Yet both higher rates and inflation are coming, Park said. "There's a gasoline smell everywhere."
Before it's here, it's on the Bloomberg Terminal.
LEARN MORE