The $74 Million Award That Jarden's Board Values at Zero
Anders Melin, Jenn Zhao and Alicia Ritcey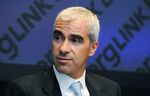 Jarden Corp.'s Executive Chairman Martin Franklin is poised to become one of the highest-paid U.S. executives for 2014 thanks to a $74 million performance award that the consumer-brands company granted him last year and recorded as having no value.
The grant includes 1.8 million restricted shares that are deemed "improbable" to vest in full because the underlying performance criteria -- annual net sales of $10.5 billion and adjusted earnings-per-share of $4 by Dec. 31, 2018 -- are unlikely to be achieved, the board's compensation committee wrote in a March 30 preliminary proxy filing.
The shares, worth $73.9 million on the day they were granted, are listed with Franklin's other equity awards in the summary compensation table with no value. In a footnote, Jarden cites a Financial Accounting Standards Board rule that advises companies to value performance-based equity grants based on the probability that the targets will be met.
"This grant-approach appears to allow a company to skirt the summary compensation table disclosure," Ron Bottano, a vice president at compensation consultant Farient Advisors LLC, said in an e-mail. "It does not strike me as best practice."
Jarden, based in Boca Raton, Florida, declined to comment on specific questions about its treatment of the grant.
The company, which owns a collection of brands including Yankee Candle, Rawlings baseball gear and Bicycle playing cards, granted Franklin a similar award in 2010 that it also deemed improbable to vest due to its performance criteria, according to filings. It vested in full when the target was met in 2013.
'Aspirational Targets'
The award was paid out last year and allowed Franklin to take home 2.25 million shares valued at $120 million as of Monday's close in New York.
The company recorded a $33.6 million expense for the 2010 grant, which also included shares for Vice Chairman Ian Ashken and Chief Executive Officer James Lillie, in its 2012 annual report. That's because the likelihood of achieving the performance goals "was deemed probable" in the fourth quarter of that year, according to a footnote in Jarden's April 15, 2013 proxy filing.
The grant never appeared in any summary compensation tables with a value larger than zero.
"Jarden has consistently set long-term aspirational targets to drive performance," the company said in an e-mailed statement. "The compensation that Mr. Franklin, Mr. Ashken and Mr. Lillie received in 2014 reflects the achievement of this long-term goal."
'Relatively Uncommon'
Jarden posted revenue of $8.29 billion and adjusted earnings-per-share of $2.70 last year, according to a regulatory filing. For the new grant to vest in full, the company must meet the revenue and EPS goals detailed in the preliminary proxy.
Achieving those goals was considered "improbable" for reporting purposes, according to the March 30 preliminary proxy filing, enabling the company to assign no fair value to the 1.8 million shares in the summary compensation table.
"This is relatively uncommon," Ken Shaw, a professor of accounting at the University of Missouri's Robert J. Trulaske Sr. College of Business, said by phone. "I would think that a CEO or CFO, all else equal, prefers targets that may be challenging but achievable."
Per-share earnings excluding some items are projected to be $4.14 in fiscal year 2018, according to the average estimate of four analysts surveyed by Bloomberg.
Jarden's brands also include Coleman camping gear, Breville kitchen appliances and Crock-Pot slow cookers.
'Very Reasonable'
The company's history of buying well-known consumer brands and quickly improving their profitability makes the revenue and earnings targets seem "very reasonable," Stephanie Wissink, senior analyst at Piper Jaffray & Co. in Minneapolis, said in a telephone interview.
"The interest rate favorability allows them to stretch up into bigger acquisitions," Wissink said. "They're actually probably pacing ahead of 2018."
Jarden is on track to meet both targets even without making any additional deals, Charles Strauzer, senior managing director at White Plains, New York-based CJS Securities Inc., said by phone. CJS has received banking fees from Jarden.
"If this kind of growth rate continues, you could easily get there," Strauzer, who owns shares in the company, said. "If they can find an acquisition or two along the way, you could see that accelerate."
The $73.9 million grant would put Franklin's total reported pay for 2014 at about $96 million, according to the proxy.
Yankee Candle
Between 2010 and 2014, Jarden's annual revenue grew by 37 percent, or $2.26 billion, as the company spent more than $3.39 billion of its cash on at least one dozen acquisitions including Rexair Holdings Inc., which makes Rainbow vacuum cleaners, and Yankee Candle Investments LLC.
The company has struggled in the past to persuade investors about its executive pay practices. More than 40 percent of voting shareholders have rejected its executive compensation program in two out of its three most recent Say-on-Pay votes held at annual meetings.
Approval rates below 70 percent are generally considered "problematic" and should prompt directors to talk with shareholders to understand their concerns with the company's pay program, said Ann Yerger, executive director at the Council of Institutional Investors.
Before it's here, it's on the Bloomberg Terminal.
LEARN MORE