Swedish Inflation Misses Estimates After Record Stimulus
Johan Carlstrom and Amanda Billner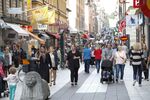 Sweden's consumer prices rose less than analysts estimated, providing little relief for the central bank as it unleashes unprecedented steps to jolt the Nordic economy out of a deflationary spiral.
Inflation was an annual 0.2 percent in March, after prices grew 0.1 percent in February and declined from August through January, Stockholm-based Statistics Sweden said on Tuesday. Analysts surveyed by Bloomberg estimated a 0.3 percent increase and the central bank forecast a 0.1 percent decline. Adjusted for interest rates, the annual inflation rate held at 0.9 percent, lagging behind the 1.1 percent estimated by analysts.
"This strengthens our view that the Riksbank will need to do more," said Torbjoern Isaksson, chief analyst at Nordea Bank AB. The data were disappointing given that energy prices have risen since the Riksbank's forecasts in February, he said.
Policy makers last year reversed course and abandoned a focus on containing household-debt growth after consumer prices started to decline. They last month cut the repo rate for a second time this year to a record low of minus 0.25 percent and boosted a bond-buying program to 40 billion kronor ($4.5 billion).
The bank may cut its main rate to minus 0.5 percent and increase its asset purchases to 100 billion kronor when policy makers meet later this month, Isaksson said.
The krona declined 0.2 percent to 9.3423 per euro as of 10:09 a.m. in Stockholm.
The bank is trying to reach its 2 percent inflation target ahead of collective bargaining agreements that expire for large swaths of Swedish workers next year. Board members have highlighted inflation expectations and the krona as crucial in deciding on more stimulus as the European Central Bank's bond-purchase program risks strengthening the krona.
Monthly consumer prices rose 0.1 percent, compared with analyst expectations of 0.2 percent. Adjusted for mortgage costs, they also rose 0.1 percent.
Before it's here, it's on the Bloomberg Terminal.
LEARN MORE