SpaceX Launches Supply Mission for International Space Station
Dana Hull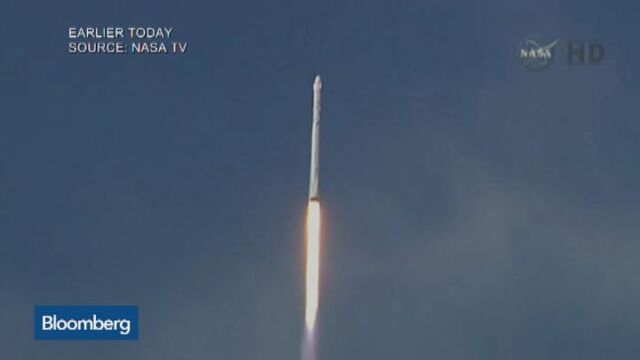 An unmanned Falcon 9 rocket from billionaire Elon Musk's SpaceX blasted off Tuesday on a resupply mission to the International Space Station.
The rocket, carrying its Dragon cargo spacecraft and 4,300 pounds (1,950 kilograms) of supplies and payloads, rumbled aloft at 4:10 p.m. New York time from Cape Canaveral, Florida.
Space Exploration Technologies Corp. is also making another attempt to recover Falcon's rocket booster. The Hawthorne, California-based company wants to cut the cost of spaceflight by creating reusable rockets. SpaceX will try to guide the booster to a vertical touchdown on a vessel hundreds of miles out in the Atlantic Ocean, a feat that the company failed to pull off in January and scrubbed in February because of stormy seas.
The modified landing barge, marked with a huge X, is floating in the Atlantic. The name of the SpaceX vessel is Just Read the Instructions, Musk's literary nod to the late Scottish science-fiction author Iain M. Banks.
In January, SpaceX first tested the ability of its Falcon 9 rocket to touch down its landing legs on a barge. The 14-story-tall rocket ran out of hydraulic fluid shortly before it hit the ship hard and broke into pieces.
SpaceX has a $1.6 billion contract with the U.S. National Aeronautics and Space Administration to resupply the International Space Station. It also has a second contract, valued at as much as $2.6 billion, to transport crews.
In addition, the closely held company is the process of being certified by the U.S. Air Force. That certification would let SpaceX compete for military launches that are now awarded to a joint venture of Boeing Co. and Lockheed Martin Corp.
The Air Force has said it will expand the competitive opportunities for launch services and work with SpaceX to complete the certification needed to put U.S. military satellites into orbit. That market has been estimated at $70 billion through 2030.
Before it's here, it's on the Bloomberg Terminal.
LEARN MORE