Seattle's Tech Boom Blamed for Rise in Anti-Gay Attacks
The Emerald City's Capitol Hill neighborhood wrestles with gentrification
by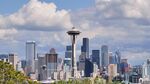 Few big U.S. cities are more liberal than Seattle, which has a gay mayor, a socialist city council member, and a garbage utility that red-tags the bags of people who don't compost. So it's all the more surprising that a neighborhood long the center of the city's gay community fears rising anti-gay hate crime. 
Anxiety in the area, known as Capitol Hill, runs so deep that one nonprofit organization last month launched a nighttime shuttle to ferry residents home safely, and Mayor Ed Murray named a task force to investigate reports of increased attacks. Already on edge after a gay bar was set on fire by an arsonist in the early hours of New Year's Day in 2014, the neighborhood has been alarmed by several incidents in the last 12 months. In February, a man was jailed after spitting at and charging two male victims in the area. Seattle Police Department records show that "bias crimes" against lesbian, gay, bisexual, and transgender people in the first half of 2014 had already outnumbered those for the whole of 2013. There's been talk of resurrecting the Q Patrol, a beret-wearing group modeled after the Guardian Angels that patrolled the neighborhood back in the 1990s.
Many in the community say gentrification is making the area seem younger, harder-partying, and less gay. An explosion in bars and restaurants has changed the neighborhood's feel and led to more late-night confrontations. Capitol Hill is close to downtown and to South Lake Union, where technology employers that include Amazon and Facebook are adding thousands of workers. As a result, an industry that's otherwise showering Seattle with jobs and money has become a scapegoat because so many of the neighborhood's new apartments seem affordable only to software developers making six-figure salaries.
Concern about the attacks goes beyond those in the gay community. "We're surrounded by 'woo girls' and dude bros,'' says Bret Fetzer, a playwright and filmmaker who has lived in Capitol Hill since 1987. "You see these young women wearing skimpy dresses and four-inch high heels tottering around on winter nights. And everybody is drunk out of their minds."
Fetzer was walking to a bus one night in February when a man smashed a beer bottle in his face and called him a common slur for gay men. The attack cut his jaw and damaged a nerve in a tooth. While the man appeared to be mentally ill, Fetzer says, there's a "weird collision'' of people in the neighborhood these days. "The net result is all the artists and homosexuals are squeezed out,'' he says. 
The neighborhood's trajectory follows that of the Castro in San Francisco, another historically gay area in which the tech industry's dominance led to a backlash over rising rents and a changing character. The Seattle area ranks second only to Silicon Valley in the share of jobs in advanced industries, at 16 percent vs. 30 percent, according to a February study by the Brookings Institution. Annual pay for tech-related fields in the Seattle area has risen faster than any other big U.S. city, climbing 18.8 percent, to $94,450, in the five years through 2013, based on data compiled by Bloomberg. The median rent for Capitol Hill was estimated by Zillow at $2,125 in January, a 33 percent increase in four years.
One poster recently plastered in the neighborhood by a local artist read, "Tech Money Kills Queer Culture Dead.'' Another simply said: "We Came Here to Get Away From You.''
Mayor Murray, a Capitol Hill resident for 31 years, lived through gay-bashing in the 1980s and says the recent cases of bigotry aren't as widespread. "There's a story line developing that development equals bias, and I don't buy it," Murray says, instead blaming frictions caused by "young men in a different environment, drinking," criminal activity, and a possible backlash to the State of Washington's 2012 gay marriage law. "It's a new experience for Seattle to have this big of a nightlife in a neighborhood,'' he says.
Murray named a task force on March 19 to investigate ways to improve safety, designating gay community leaders, police officers, social workers, and representatives of employers, including Amazon and Facebook. Both companies declined to comment. Facebook has been a vocal supporter of gay marriage equality; last year it gave users of its social network more than 50 custom options to describe their gender. Amazon founder Jeff Bezos and his wife, MacKenzie, gave $2.5 million in 2012 to support the same-sex marriage referendum in Washington.
One issue the group is likely to examine is the number of bars and restaurants now clustered into the neighborhood—more than 200, by the count of the Seattle Times. At a recent neighborhood forum, residents spoke of feeling intimidated. Many say their concern isn't tech employees but young men drawn to the area by the new bars, many of which cater to a straight clientele. Newspapers have reported attacks on drag performers by young men hurling slurs. 
In the first half of 2014,  the Seattle Police Department reported 21 crimes such as assault or vandalism against LGBT people, compared with 19 for all of 2013. Numbers for the second half weren't available. Many other incidents go unreported, says Shaun Knittel, president of Social Outreach Seattle, which started the shuttle service. His group also began offering self-defense classes. 
"There is a general sense of unease from the LGBT community in Capitol Hill, and it's caused us to take action,'' says Seattle Police Department spokesman Sean Whitcomb. Police have deployed more officers there and also plan to put rainbow-colored stickers in the windows of businesses at which people can seek help when they feel threatened, he says. The "Safe Place'' program is designed in part to remind people that Capitol Hill is a gay neighborhood.
"The fact that hate crime continues to exist actually reinforces why we still need these neighborhoods,'' says Amin Ghaziani, author of There Goes the Gayborhood? The book examined how gentrification and social acceptance has dispersed the gay population in many cities. "It certainly encourages us to pause a bit on the narrative of unqualified celebration and utopia and maybe we can all get along.''
Before it's here, it's on the Bloomberg Terminal.
LEARN MORE