Scott Walker Stumbles Over German Pronunciation During Trade Mission
The likely Republican presidential candidate is seeking to beef up his foreign policy credentials.
By and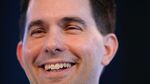 Scott Walker is learning that foreign policy and trade is a touchy business. Drop just one letter, as the likely Republican presidential candidate did Tuesday in Germany, and you can get laughed at.
In a speech about transatlantic trade at an industrial fair, Walker called the Hannovermesse the "Hannover-mess," incorrectly dropping the "e" in his pronunciation and drawing some chuckles from his audience of about 100 German executives. The compound noun is translated as Hannover Fair.
It wasn't exactly an "Ich bin ein Berliner" moment. That's the phase President John F. Kennedy used in a famous Cold War speech in 1963 in Berlin that legend has sometimes incorrectly held could be translated as "I am a jelly doughnut," instead of his intended meaning of solidarity with the then-divided city.
Walker, the governor of Wisconsin, is in the midst of a week-long, state taxpayer-financed trade mission to Germany, Spain, and France. Seeking to beef up his foreign policy credentials, he also has a political trip scheduled to Israel in mid-May.
In his 15-minute speech, his only remaining public event of the trip, Walker played up his own German ancestry and his state's strong roots to the European economic power.
"Germany and Wisconsin certainly have many common bonds," he said. "Over 40 percent of the residents of the state of Wisconsin have claimed some degree of German ancestry."
Walker said some of his own great grandparents and great-great grandparents come from Germany. "So, like many in Wisconsin, I can literally retrace my roots back to Germany," he said.
As he is prone to do in Europe, Walker also brought up Colby cheese, made in Colby, Wisconsin, as he sought to make a point about transatlantic trade.
"We'll put up our Colby cheese up against anybody," he said. "We like to make cheddar, parmesan and others as well along the way. So, we believe that fair and open trade allows us to do the same with other cheeses. Free trade allows us to compete on a level playing field."
During a trip to London in February, Walker also pointed to Colby cheese in making his case for open trade free of government intervention.
"We believe we make it better than anyone in the world, but we do not begrudge anyone else trying to make a better cheese," Walker said in February. "In other words, we say let the best cheese win."
The bilateral support for the NAFTA trade deal in the 1990s should serve as a model for the Transatlantic Trade and Investment Partnership with the EU, Walker said. "Now is the time for the members of the European Union, citizens of the United States to join together in reaching fair and free trade agreement that will benefit all of us," he said.