Russia Banks Unwind Emergency Rates on World-Beating Ruble Rally
Ksenia Galouchko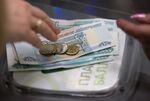 Russian lenders aren't waiting for the central bank to lower interest rates at its meeting in two weeks. They're cutting now.
The MosPrime rate commercial lenders say they charge each other to borrow for three months has fallen 95 basis points in April, shrinking the premium over the central bank's main 14 percent rate to the least on record. Yields on government bonds in rubles due in 2019 have plunged 306 basis points below the key rate.
Last year's emergency 650 basis-point rate increase amid the ruble's slump and deepening crisis in Ukraine is now in reverse as Russia's currency soars the most worldwide. All but two of 15 economists surveyed by Bloomberg expect the central bank to lower its rate by 100 basis points on April 30. Goldman Sachs Group Inc. predicts 600 basis points of reductions by the end of the year.
"The market already might be pricing in not only April's cut, but also other cuts down the road," Vladimir Osakovskiy, the chief economist for Russia at Bank of America Corp. in Moscow, said by e-mail on April 14. He expects 500 basis points of reductions this year. "Funding costs are falling for sure."
Bank Panic
The truce in Ukraine and oil's stabilization have buoyed the ruble's reversal from last year's 46 percent crash, giving the central bank room to ease its monetary policy.
The three-month MosPrime rate surged to a record 29.93 percent on Dec. 19, three days after policy makers hoisted the key rate to 17 percent to stem the ruble's slump at the peak of Russia's market turmoil. The MosPrime rate, the base for some commercial loans, has fallen more than nine percentage points this year, while the ruble has strengthened 20 percent.
"A 100 basis-point cut is all but guaranteed, but something larger than that will no longer be a surprise given the ruble appreciation," Ivan Tchakarov, a Moscow-based economist at Citigroup Inc. and the second-most accurate ruble forecaster in a Bloomberg survey, said by e-mail on April 14. "The fears of a potential bank panic and wider bank failures have not materialized."
Ukraine Sanctions
Policy makers stepped in to buttress lenders with more lenient accounting rules and foreign-currency cash auctions that allowed banks to meet demand as companies scrambled for dollars to pay debts after international sanctions over Ukraine shut them out of overseas capital markets.
While the stronger currency reduces ruble-denominated budget revenue from energy exports, the rally frees central bank Governor Elvira Nabiullina to lower borrowing costs as the economy heads for its first recession since 2009.
The ruble climbed for a third day, gaining 0.8 percent to 50.5100 as of 6:14 p.m. in Moscow, extending this month's advance to 15 percent. The MosPrime rate dropped to 14.68 percent on Wednesday.
"Given the ruble's impressive performance so far this year, the central bank might cut interest rates by more than 100 basis points at the end of April," Piotr Matys, a London-based foreign-exchange strategist at Rabobank Group, said by e-mail on April 14. "Market expectations for interest rates are an important driving factor for MosPrime rates."
Before it's here, it's on the Bloomberg Terminal.
LEARN MORE