Lackluster Rebound in U.S. Sales Shows Consumers Hesitant
Michelle Jamrisko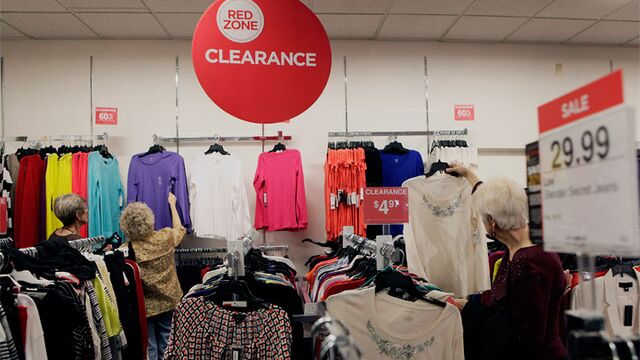 The March rebound in U.S. retail sales was less impressive than economists forecast, signaling consumers are in no rush to spend the windfall from cheaper fuel prices.
Purchases increased 0.9 percent, the first gain in four months, according to Commerce Department figures issued Tuesday in Washington. The median forecast of 87 economists surveyed by Bloomberg projected retail sales would advance 1.1 percent. Other reports showed inflation is tame and small-business confidence ebbed.
Americans are focused on using the savings at the gas pump to shore up finances even as employment and confidence firm and interest rates remain low. A boost in wage growth may be what's needed to drive households to loosen their purse strings and spend more after unusually harsh weather slowed the economy in the first quarter.
"The U.S. consumer is cautious and not ready to go on a shopping spree just because gas prices are lower," said Thomas Costerg, an economist at Standard Chartered Bank in New York, who correctly projected the retail sales gain. "Consumers seem to be paying down credit card debt or debt in general rather than spend what they save at the gas pump on other items."
Stocks rose as a rally in energy companies and oil overshadowed semiconductor declines. The Standard & Poor's 500 Index climbed 0.2 percent to 2,095.84 at the close in New York.
Survey Results
Estimates for retail sales in the Bloomberg survey ranged from gains of 0.2 percent to 1.7 percent. February's reading was revised to a 0.5 percent drop from an initially reported 0.6 percent decrease.
Even though the March increase was smaller than projected, it was the biggest advance in a year.
"If people really held back because of weather, I would have anticipated more spending right away once people get to the mall, once you have a resumption in normal activities," said Laura Rosner, a U.S. economist at BNP Paribas SA in New York. "It does appear that consumers are a little bit more cautious than we would have expected them to be, and that caution is persisting even through the ups and downs in the weather."
Another report showed the producer price index rose 0.2 percent in March, matching the median forecast of economists surveyed by Bloomberg, after a 0.5 percent drop the prior month, according to figures from the Labor Department. Over the past 12 months, wholesale costs fell 0.8 percent. The PPI excluding food and fuel also climbed 0.2 percent from a month earlier.
Sales Breakdown
The Commerce Department's sales report showed demand climbed in nine of 13 major retail categories last month, pointing to a broad-based rebound from February's slump.
Auto dealers were among the stellar performers last month, showing a 2.7 percent sales increase, the biggest gain in a year. The auto figures are in line with industry data.
Cars and light trucks sold at a 17.1 million annualized rate in March, matching the strongest pace since August, figures from Ward's Automotive Group show.
"The first quarter saw a string of mixed economic data," Emily Kolinski Morris, chief economist at Dearborn, Michigan-based Ford Motor Co., said on an April 1 sales and revenue call. "We expect a firming labor market and still-low fuel prices and interest rates to support renewed momentum in economic activity as spring takes hold."
Excluding Autos
Retail sales excluding autos rose 0.4 percent after being little changed in February, Tuesday's report showed. They were projected to rise 0.7 percent, according to the Bloomberg survey median.
Core sales, the figures that are used to calculate gross domestic product and which exclude such categories as autos, gasoline stations and building materials, climbed 0.3 percent last month after a revised 0.2 percent decrease in February that had previously been recorded as little changed.
Furniture stores, building-material outlets, general merchandise retailers and restaurants were among the categories showing rebounds in demand in March after poor weather hurt sales the prior month.
Electronics stores saw a drop in sales as did service stations even though gasoline prices firmed last month.
Another unexpected area of weakness last month was at food and beverage stores, which showed a 0.5 percent drop in purchases, the biggest since April 2013.
Job Market
An improving job market is likely to help underpin demand. Applications for jobless benefits are hovering around their lowest levels in more than a decade, and job openings climbed to a 14-year high in February, according to Labor Department figures released last week.
Progress on filling those positions was interrupted last month as employers added 126,000 workers, the smallest gain since December 2013. The weaker-than-projected advance ended a 12-month streak of increases of 200,000 or more.
Some economists remain upbeat on the outlook.
"We do not, however, see this as a sign of slowing in the economy since the fundamentals for consumer spending remain positive," John Ryding, chief economist at RDQ Economics in New York, wrote in a research note. "Solid" gains in payrolls, lower fuel prices, rising confidence and personal wealth means "we expect a strong rebound in spending in the spring."
Economists at Barclays Plc in New York lowered their tracking estimate of first-quarter consumer spending after the sales report to a 1.7 percent annualized rate from 2.1 percent. Counterparts at Morgan Stanley reduced it to 1.8 percent from 1.9 percent.
That would signal a marked slowdown from the 4.4 percent jump in the last three months of 2014 that was the biggest quarterly advance in more than eight years.
Also Tuesday, the National Federation of Independent Business' optimism index fell to 95.2 in March, the lowest since June, from 98 a month earlier. The 2.8 point drop was the biggest since November 2012. The report also showed that fewer small companies plan to raise wages in coming months.
Before it's here, it's on the Bloomberg Terminal.
LEARN MORE