Rand Paul: Forcing Iran to Recognize Israel Might 'Kill the Deal'
A Paul-Rubio disagreement emerges over preconditions for the nuclear deal between Iran and the United States.
By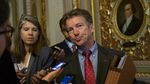 On April 5, Israeli Prime Minister Benjamin Netanyahu said that any deal to end or minimize Iran's nuclear program should require the Islamic republic to recognize the state of Israel. Since then, Fox News host Sean Hannity has been asking Republican candidates for president if they agreed. Yesterday, Florida senator Marco Rubio had been adamant that Netanyahu was right. Last week, Paul seemed to be ready to demand recognition of Israel as a precondition.