Rand Paul: Forcing Iran to Recognize Israel Might 'Kill the Deal'
A Paul-Rubio disagreement emerges over preconditions for the nuclear deal between Iran and the United States.
By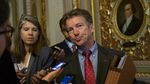 On April 5, Israeli Prime Minister Benjamin Netanyahu said that any deal to end or minimize Iran's nuclear program should require the Islamic republic to recognize the state of Israel. Since then, Fox News host Sean Hannity has been asking Republican candidates for president if they agreed. Yesterday, Florida senator Marco Rubio had been adamant that Netanyahu was right. Last week, Paul seemed to be ready to demand recognition of Israel as a precondition.
"Should there be some prerequisite?" Hannity asked Paul. "Should they acknowledge Israel's right to exist? Should they stop funding..."
Paul interjected with a "yes." When Hannity finished his second question—about whether Iran needed to stop funding "terror"—Paul gave another "yes."
Today, in a short interview with Bloomberg News, Paul was more circumspect about whether recognizing Israel should be a prerequisite for any Iran deal.
"Obviously we want every country in the Middle East to recognize Israel, or not to cause aggression against other countries," Paul said. "I think there's only two that do—Jordan, and Egypt. I think that should always be a goal, but I don't know whether it would work on this, or kill the deal. I guess we'll be having that discussion. I do think that the biggest thing that's making the deal difficult for people to accept is that the Iranian foreign minister tweets out in English that it doesn't mean what Obama says it means."
Paul, who also endorsed the current version of the bipartisan Senate legislation on the Iran deal, said that his focus remained on "making the negotiations stronger" and avoiding war. He found some agreement from Arizona Senator John McCain, a hawk who generally supported the idea of getting Iran to recognize Israel.
"I've always believed that," said McCain, "but obviously that's not going to be a precondition. Now, whether that should be a deal-breaker or not—that's not clear yet. It depends on the rest of the deal. I don't say that it's a precondition, but I do say that it's important."
President Obama has flatly ruled out the idea of including recognition of Israel in a final Iran deal. The precedent does not give negotiators any confidence that recognition would even be possible. Thirty-seven years ago, when Egypt agreed to recognize the Jewish state as part of the Camp David peace accords, most of the Arab world rebelled by cutting ties with Cairo and denying use of their airspace to Egyptian planes.
Still, the idea of forcing Iran's leaders to recognize Israel is attractive to hawks like Rubio and like Illinois Senator Mark Kirk. The Republican, who is up for re-election in 2016, said that including recognition in the deal would go a long way toward soothing jangled nerves.
"The reason why Iran is such a problem is that they want to wipe Israel off the face of the earth," Kirk told Bloomberg News. "Of the 176 nations in the U.N., we don't have one other head of state talking about wiping another member of the U.N. out. That shows you're a uniquely hostile power."
A deal that forced Iran to recognize Israel's right to exist, said Kirk, "would reassure everybody." That doesn't mean such a concession can possibly happen in this round of talks.