Politics, War, and Volatility for Two of the World's Most Vulnerable Fortunes
A time of strife in Nigeria and Ukraine
by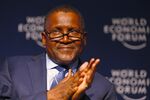 Nigeria's election on March 28 brought opposition candidate Muhammadu Buhari into the presidency and led to the country's first sustained market rally of 2015. It was good news for the fortune of Aliko Dangote, Africa's richest person, whose net worth had fallen 26 percent in the first three months of the year, the steepest percentage decline in the Bloomberg Billionaires Index.
Uncertainty over the election, which was postponed six weeks on Feb. 7 because of threats by Islamist group Boko Haram, contributed to the Nigerian market being one of the world's worst performers in the first quarter. Dangote's fortune has rebounded 15 percent since the vote, to $15.4 billion. Still, his $3.1 billion drop this year surpassed that of Rinat Akhmetov, the richest person in war-ravaged Ukraine, who lost $2.2 billion during the same period.

Before it's here, it's on the Bloomberg Terminal.
LEARN MORE