On 'Equal Pay Day'  Joe Biden Tweets Photo From a Women's Locker Room
The vice president shares a picture taken with the Delaware University women's basketball team.
By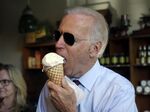 It all makes sense, somehow. 
In celebration of Equal Pay Day, Vice President Joe Biden tweeted a picture of himself standing in a women's locker room, surrounded by female basketball players. 
The iconic shot was actually taken in 2013, following the Delaware University women's team's upset of U.C.L.A. in the NCAA tournament. 
"It was an amazing game to watch," Biden said told reporters after the game. "They never, never gave up. They were losing most of the game, and they came back to put it over the top."
April 14 has been designated by activists as Equal Pay Day because it takes that additional time each year for women to earn as much as their male counterparts have in the previous one, the National Committee on Pay Equity says on its website. 
"Because women earn less, on average, than men, they must work longer for the same amount of pay," the organization says. "The wage gap is even greater for most women of color."