U.S. Stocks Near Records With Oil at 2015 High; Dollar Retreats
Jeremy Herron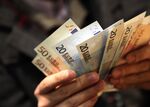 U.S. stocks were buoyed by a surge in energy shares as crude oil climbed to a 2015 high, while Intel Corp. rallied following earnings. The dollar fell after a drop in manufacturing bolstered the case for continued stimulus.
The Standard & Poor's 500 Index added 0.5 percent by 4 p.m. in New York, leaving it just 0.5 percent below a record close. The Russell 2000 Index of small companies climbed 0.8 percent to an all-time high. Ten-year German bunds yielded the least ever as Mario Draghi signaled he will stay the course with his bond-buying program. The dollar weakened a second day versus the euro. U.S. oil jumped 5.8 percent as gains in American crude supply eased. Netflix Inc. soared in after-market trading.
Total industrial output fell more than projected in March, the latest sign a strong dollar and cheap oil are hurting American manufacturing as the Federal Reserve debates raising interest rates. Draghi, the European Central Bank President, said quantitative easing is helping the region's economic recovery and the program must be implemented in full. Intel's second-quarter forecast exceeded some analysts' projections.
"We have a scenario where we don't have upward pressure on short-term rates, Fed action is probably put off further and earnings are coming in better than expected," Bill Schultz, who oversees $1.2 billion as chief investment officer at McQueen, Ball & Associates in Bethlehem, Pennsylvania, said by phone.
While equity indexes from Asia to Europe have climbed to multiyear highs in recent days, the S&P 500 and Dow Jones Industrial Average last set records March 2, the same day the Nasdaq Composite Index topped 5,000 for the first time in 15 years.
Stocks Zigzag
The S&P 500 has zigzagged since, falling as much as 3.6 percent through March 11 amid concern a stronger dollar and lower oil prices would hurt earnings as the Fed considers raising rates. Indications from central-bank officials that they are in no rush to boost borrowing costs propelled the gauge to within 0.4 percent of the record by March 20, before it retreated again.
The gauge has been stuck in a range of 52 points since then, as weaker-than-forecast data from hiring to manufacturing elevated concern about earnings while at the same time bolstered the case for keeping rates lower for longer.
Energy shares in the S&P 500 rallied 2.3 percent Wednesday, pushing their gain in April to 6.8 percent. The gauge is on track for its best month since January 2013. Its rally has propelled the S&P 500 back above its average price for the past 50 days and to within 10 points of its record. Intel climbed 4.3 percent, the most since March 27.
Netflix Boost
Netflix jumped 14 percent in extended trading, rising to $532.50 after closing at $475.46. The company, which has been one of the biggest contributors to the Nasdaq Composite's gains this year with a 39 percent climb, said subscribers to its video-streaming service topped 62 million globally in the first quarter as original shows such as "House of Cards" lured viewers.
Profit at S&P 500 companies probably fell 5.6 percent in the first quarter, analysts estimate.
U.S. Treasury yields dropped on the factory data, while a Fed index of manufacturing in the New York region fell. The data raised concern that recent disappointments in reports on hiring and retail sales indicate signs of a slowdown are attributable to more than just harsh winter weather. Rates on 10-year debt slipped a fourth day, losing one basis point, or 0.01 percentage point, to 1.89 percent.
No Move
"The data right now is definitely not going to encourage the Fed to move faster, so yields may stay low until the data starts to improve." said Thomas Simons, a government-debt economist in New York at Jefferies LLC, one of the 22 primary dealers that deal with the Fed. "The generally expected tone was things were going to get better as we got better weather."
Bond bulls are also being are lured by U.S. yields that are higher than 19 of 22 other developed nations around the world.
In Europe, government bond yields slid to record lows in Germany, France, Belgium, Austria, Finland and Ireland. The German 10-year yield dropped three basis points to 0.106 percent and France's rate slipped to 0.351 percent.
The Stoxx Europe 600 Index advanced 0.6 percent to regain its record after declining on Tuesday. Nokia Oyj climbed 1.5 percent after agreeing to buy Alcatel-Lucent SA in a deal valuing the French company at 4.12 euros a share, or 8 percent less than its closing price. Alcatel tumbled 16 percent.
Draghi Outlook
ECB chief Draghi said the 1.1 trillion euro ($1.2 trillion) QE plan will continue until there's a sustained adjustment in euro-area inflation. The program is so far proceeding smoothly and concern that the buying is creating a scarcity of securities is "premature," he said. Policy makers left benchmark rates unchanged following a meeting in Frankfurt.
"Draghi is fully committed to QE," said Peter Rosenstreich, head of market strategy at Swissquote Bank SA in Gland, Switzerland. "The prospect of a shorter program appears to be off the table for now."
The euro has weakened more than 1.5 percent versus the dollar since the ECB began purchases of sovereign debt on March 9. It reached $1.0458 on March 16, its lowest level since January 2003. the Bloomberg Dollar Spot Index, which tracks the greenback against 10 major peers, fell a second day, declining 0.5 percent to a one-week low.
In Asia, Shanghai shares declined for the first time in four days, while Hong Kong's Hang Seng China Enterprises Index gained 1.5 percent amid speculation policy makers in Asia's largest economy will boost stimulus to stoke growth.
Oil Markets
China's gross domestic product expanded 7 percent in the first quarter and growth in industrial output trailed all estimates in a Bloomberg survey. Industrial production rose 5.6 percent in March from a year earlier, the weakest pace since November 2008.
West Texas Intermediate crude settled at $56.39 a barrel, the highest level since Dec. 23, extending gains into a fifth day. Brent crude for May settlement, which expired Wednesday, added 3.2 percent to $60.32 a barrel in London, its highest close since March 5.
U.S. crude supplies climbed by 1.29 million barrels last week, according to an Energy Information Administration report Wednesday, the smallest gain since the seven days ended Jan. 2. Analysts had predicted a 3.6 million barrel increase. The number of active rigs drilling for oil dropped to the least since 2010, according to Baker Hughes Inc., a sign that production may soon peak.
The economy expanded across most U.S. regions from mid-February to the end of March, with higher retail sales and rising demand for business services, according to the Federal Reserve's Beige Book report.
Before it's here, it's on the Bloomberg Terminal.
LEARN MORE