Marco Rubio Says He Would Have More Experience Than Obama
The Republican says he's no back-bencher.
By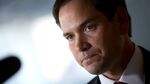 Senator Marco Rubio, who announced his campaign for the Republican presidential nomination on Monday, says he'd enter the White House with more experience than President Barack Obama had when he ran.
Parallels have been drawn between the two men as candidates, particularly by critics skeptical they had enough experience to hold the nation's highest office. Both decided to seek the presidency as first-term senators. Rubio is 43. Obama was 45 when he announced.
But don't be mistaken, Rubio said in an interview that aired Tuesday on MSNBC's Morning Joe. Obama was a "back-bencher" in the Illinois state legislature, whereas Rubio served as speaker of the Florida state House and in other leadership positions, he said. If elected, he will have completed a full term as senator, unlike Obama, he added. 
"There's some significant differences between his biography and mine in terms of what we've done up to this point," Rubio said. "In fact, if you look at the amount of governmental experience I've had up to this point, I would be the only person running on the Republican side who has ... local, state and federal governmental experience."