The Bank of Japan Plays Hard -- On the Soccer Pitch
Toru Fujioka and Masahiro Hidaka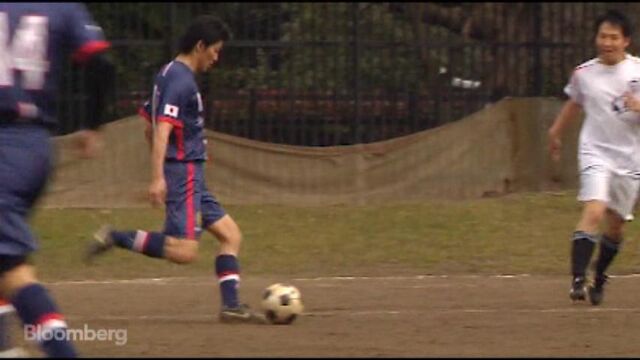 The Bank of Japan officials huddle: they're planning a counter attack.
It's halftime, on a balmy Saturday afternoon in October on a soccer field in Machida City in western Tokyo, and the central bank's team has just seen their one-zero lead vanish with an equalizer by Japan Finance Corp. One player says they should try harder to keep possession of the ball, another calls for more passes to key players in the upper right field.
What counted in the end was overcoming the fear of making mistakes, said Yusuke Kumano, the team captain who works in the financial markets department. The BOJ clinched the victory with a goal three minutes before time. Six months later, it trounced Resona Holdings Inc. in its final game of the season in Japan's interbank soccer league, allowing it to move up a division this year, where it will take on the Ministry of Finance.
"We play harder than you might think," said Makoto Kasai, secretary to Governor Haruhiko Kuroda and a 20-year veteran of the squad. "We are serious about winning."
For 79 years, the soccer club has been a refuge for BOJ officials to unwind as they helped steer the economy through war, reconstruction and a boom that vaulted Japan to No. 2 in the world, followed by the burst of stock and land-price bubbles in the 1990s that gave way to deflation the central bank is still trying to stamp out.
Paris Saint-Germain
Officials off the soccer field are focused on spurring inflation with unprecedented monetary stimulus to a 2 percent target that has grown more distant with a plunge in oil prices. The forces against them in the world of economics are formidable, with Kuroda warning his charges to gird for a possible drop in prices over the next few months before improvement comes later in the year.
On the field, the BOJ players showed their stuff against Resona. Knowing the game would make or break their chance to move up to the middle of the league's three divisions, team captain Kumano urged all the players to show up in their best physical condition.
Donning a new uniform that borrows the design of Paris Saint-Germain with a BOJ logo, the central bank beat the Resona team 5-0 in Tokyo's Yoyogi Park as the cherry trees were beginning to blossom.
The BOJ faces a "totally different" world in the second division next season, said Ryota Kojima, whose fatigue after working until 2:00 a.m. the night before contributed to a leg cramp that took him out of play mid-game.
'Mr Yen'
The central bank had seen better days on the soccer field. After forming a team in 1936, the BOJ played its way over the next few years to the top of six divisions in a competition comprising teams from finance and industry around Tokyo and nearby prefectures.
The Finance Ministry formed a team about 35 years ago at the behest of Eijiro Katsu, a bureaucrat who later gained a reputation for his aggressive style of intervention as a lieutenant to Eisuke Sakakibara, a former vice finance minister known as "Mr. Yen."
The MOF's team -- which lost seven straight games in the first division to teams including Mitsubishi UFJ Financial Group Inc. -- is poised to drop a rung as the BOJ moves up by one.
"We will work hard to make a comeback," said Takahiro Chiba, captain of the MOF team. "We want to feel the joy of playing soccer while focusing on winning."
The central bank players will have to up their game, said BOJ's Kojima, a former secretary to board member Takehiro Sato who now works in operations.
"We'll have to play more tactfully to win," Kojima said.
Balancing Family
The BOJ's club counts 50 members, with a core of mostly young players who practice about once a week to stay in shape.
For BOJ staff, who are notorious for putting in long hours at work, finding time for soccer and family can be a challenge.
"I have to balance family and soccer," said Kojima, who came to the October game in Machida after visiting his child's school for parents' day in the morning. "Still, it's worth it. Playing soccer is so much fun."
Before it's here, it's on the Bloomberg Terminal.
LEARN MORE