How Can a Cop Mistake His Gun for His Taser?
'Oh, I shot him. I'm sorry.'
By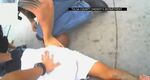 The Taser stun gun a sheriff's deputy apparently confused with his .357 Magnum in the fatal shooting of a black man in Oklahoma was designed to look and feel like a real gun.