Greek Banks Said to Win More Emergency Cash as Country Seeks Aid
Nikos Chrysoloras and Karl Stagno Navarra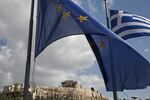 Greece won access to more emergency cash for its banks as the government neared a deadline to unlock aid and keep the country afloat.
The European Central Bank's Governing Council raised the cap on Emergency Liquidity Assistance by 800 million euros ($853 million) to 74 billion euros at a meeting in Frankfurt on Tuesday, said people familiar with the decision, asking not to be identified because the matter is private. An ECB spokesman declined to comment.
The ECB is tightly controlling the Greek central bank's ability to support the nation's lenders as nervousness over the country's future in the euro area drives deposit outflows. Greece risks defaulting on its debt and being forced out of the currency bloc if the government fails to agree with its creditors on structural reforms to free up international aid payments.
The most indebted state in the euro zone should be targeting a list of reform proposals by about April 20, European Union Commission Vice President Valdis Dombrovskis said in a Bloomberg Television interview on Monday. Euro-area finance ministers are scheduled to meet to discuss the matter on April 24 in Riga, Latvia.
The European Union is "determined to respect the will of Greek voters but also see Greece respect its commitments," EU Economic and Monetary Affairs Commissioner Pierre Moscovici told the European Parliament in Brussels on Tuesday. He said a precise list of reforms from the Greek government is needed.
IMF Warning
With a monthly bill of about 1.5 billion euros for pensions and salaries, Greek officials said last week they're targeting the finance-ministers meeting as a deadline for approving new money. Any respite would still be temporary as Greek bonds held by the ECB mature and are due to be repaid in mid-year.
As negotiations for reforms drag on, a further crisis that would unsettle financial markets can't be ruled out, according to International Monetary Fund chief economist Olivier Blanchard.
"An exit from the euro would be extremely costly for Greece, would be extremely painful," he said at a press briefing in Washington on Tuesday. The IMF is working on and hopes to come to an agreement with Greece, he said.
Before it's here, it's on the Bloomberg Terminal.
LEARN MORE