Goldman Has Some Tips for Hedge Funds That Can't Short Straight
Short selling is not an easy game to play
by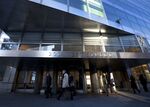 Short selling stocks in the U.S. is sort of like playing the theremin -- it's not exactly a lost art form, but neither is it a very profitable one for many people these days.
A six-year bull market that has tripled the value of the stock market has taken its toll on hedge funds that bet shares will fall. Apart from an occasional master stroke from the likes of Carson Block or Whitney Tilson, the whole practice in general has been somewhat of an exercise in frustration.
As a proxy for hedge funds focusing on short bets, take a look at the Dow Jones Credit Suisse Dedicated Short Bias Index, which fell 69 percent in the six years through February. A similar index tracking hedge funds making both long and short bets was up only 69 percent in the same period, also woefully trailing the S&P 500.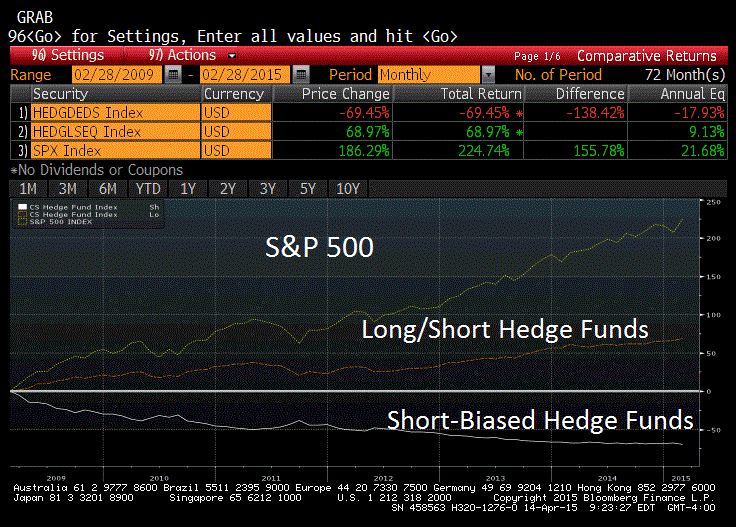 It's enough to make you want to sell your theremin, if only you could find someone to buy it! (Or even someone who knows what it is, for that matter.)
It's safe to say that most, or at least much, of the investing public won't lose a lot of sleep over the plight of the shorts. The exceptions, of course, are those actively engaged in the practice -- or those who have a lot of clients engaged in it.
Enter David Kostin, strategist at Goldman Sachs Group Inc., who is out with a sort of .pdf pep talk for short sellers. Kostin wrote that Goldman Sachs clients are on the prowl for bearish trade ideas amid low rates of return dispersion and equity valuations higher than any time in the past four decades excluding the technology bubble.
Focusing on the most richly priced shares may be the best place to start searching for short ideas: Kostin and colleagues found that the highest valuation stocks have underperformed the S&P 500 by an average of 520 basis points, or 5.2 percentage point, per year since 1980.
Yet this year's outperformance by growth stocks offers a particularly enticing time to short them, in Kostin's view. The idea is that just like last year, the temporary slowdown in economic growth due to nasty weather in the first quarter created a "scarcity premium for stocks with the fastest growth expectations" and that premium should fade now that the snow is melted and prospects for the economy are looking better for the rest of the year.

"We expect growth will be overtaken by value, just as occurred during the painful reversal in March 2014," the strategist wrote.
Short sellers may also want to ignore what other shorts are doing, and instead look at the stocks that mutual fund managers have shied away from for clues on what to bet against. While Goldman's list of the most important hedge-fund short positions has actually returned one percentage point more than the S&P 500 since the beginning of 2013, its basket of shares that are underweighted by mutual funds has trailed by 12 percentage points.
Throwing all of this and more into a formula to screen for potential short ideas, Kostin and crew came up with a list of 19 stocks in the S&P 500. Among the most expensively valued using a variety of metrics, they highlight Celgene Corp., O'Reilly Automotive Inc., Red Hat Inc. and Equity Residential:

So grab some popcorn, sit back and watch how these picks play out. Because just like the theremin, short bets are best when accompanied by a horror show. 
Before it's here, it's on the Bloomberg Terminal.
LEARN MORE