China's Rally Is Pushing Its Companies Back Into the Rank of World's Largest Stocks
Joseph Ciolli and Lu Wang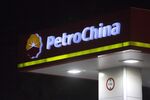 China's rally is thrusting its companies back into the ranks of the world's very largest stocks, with three rejoining the top 10 list to slow a recent run of American dominance.
Gains in PetroChina Co., Industrial & Commercial Bank of China Ltd. and China Mobile Ltd. have made their shares the fourth-, seventh- and eighth-most valuable in the world, after each was absent a year ago, data compiled by Bloomberg show. Each has surged in the past 12 months amid an advance that pushed the Shanghai Composite Index up 94 percent.
It's a restoration of leadership for a nation that spent stretches of the last two years without any company in the ranking as surging U.S. equities gave almost every slot to Americans. Advances in China have swelled the value of its shares to more than $7 trillion and are spreading to Hong Kong, which just eclipsed Japan as the world's third-largest market.
"It's the reality of the stock market catching up with the reality of the economy's footprint," Xavier Smith, who oversees international equities at Centre Asset Management in New York, said by phone. The firm oversees about $1.1 billion. "For the world's second-largest economy, you'd expect to see some of its stocks in the top 10 list. It's more bizarre that they weren't there before."
The Shanghai Composite Index slipped 1.2 percent Wednesday, while the MSCI All-Country World Index added 0.3 percent at 9:55 a.m. in New York.
Policy Divergence
With the U.S. Federal Reserve studying a timetable for raising the benchmark cost of lending, the People's Bank of China has cut interest rates twice since November, aiding a rally that's sent the Shanghai Composite up 75 percent over the last six months. Last April, Premier Li Keqiang said the PBOC wasn't considering further easing.
"Their government has finally decided that they shouldn't be stepping on the brake, but instead applying some stimulus," Bruce McCain, who helps oversee more than $25 billion as chief investment strategist at the private-banking unit of KeyCorp in Cleveland, said by phone. "That's a huge shift from what we saw last year."
China's economy expanded 7 percent in the first quarter from a year earlier, according to a government report Wednesday. While that's the slowest pace since the first quarter of 2009, it's five times as fast as the U.S. economy is expanding.
PetroChina Gains
PetroChina, the nation's biggest oil and gas firm, jumped 15 percent in Hong Kong this year through Tuesday. The Beijing-based company last week passed Exxon Mobil Corp. as the biggest energy company by market value for the first time since 2010. Exxon has since overtaken PetroChina, which has a market capitalization of $353 billion and ranks fifth globally.
ICBC climbed 12 spots in the global market value rankings over the past year, riding a 50 percent stock surge on the Shanghai market during the period. The Beijing-based bank is now the world's largest lender by assets, having overtaken JPMorgan Chase & Co. and Wells Fargo & Co. during its stretch of gains.
China Mobile jumped 21 percent on the Hong Kong exchange this year through Tuesday, boosting its global ranking from No. 15 in December, amid optimism that its expansion on high-speed networks will boost subscriber growth in the world's largest smartphone market. At $289 billion, its share value surpassed General Electric Co. and Wal-Mart Stores Inc.
Size 'Inevitable'
"China is so big in terms of population and potential revenue that it's inevitable their companies will have among the biggest market caps," Skip Aylesworth, a portfolio manager at Hennessy Funds in Boston, where he helps oversee about $5 billion, said by phone.
The $7.3 trillion value of companies with primary listings in China compares with the nation's estimated $10.4 trillion GDP in 2014, according to data compiled by Bloomberg and the International Monetary Fund. The 70 percent value-to-GDP ratio compares with 110 percent at the height of China's equity boom eight years ago and the current level of 143 percent in the U.S.
Some money managers question the pace of economic expansion in China and remain skeptical about the ability of companies to live up to their valuations. The Citigroup Inc. Economic Surprise Index for China dropped the most in a year on Monday. The measure is now negative, indicating that data releases have been worse than expected.
Meanwhile, the relative strength index for the Chinese benchmark gauge exceeded 80 this week, above the 70 threshold that some traders view as a sign that gains have gone too far.
Economic Concerns
"We're concerned about the economic growth for China and that's not reflected in the market price," Atul Lele, who helps oversee $5.4 billion as the chief investment officer at Nassau, Bahamas-based Deltec International Group, said in an interview. "Economic conditions are deteriorating quite rapidly. While there has been a strong policy response, we don't think it'll be enough."
The U.S. is retreating in global rankings as its stocks trail all 23 developed markets tracked by Bloomberg, except for Greece. The S&P 500 has added 1.8 percent this year, less than half the gain in MSCI All-Country World Index.
In 2013, when Europe fell back into a recession and China's growth started to slow down, the U.S. occupied nine out of the top 10 spots in the list of the largest companies.
As a side effect of the Chinese stock boom, Hong Kong's stock market on Monday overtook Japan's as the world's third-largest. The market value of the former British colony's exchange has jumped 23 percent since the start of the year.
Chinese authorities last month allowed more domestic funds to access the city's shares through a cross-border bourse link, spurring inflows that narrowed the discount on Hong Kong stocks compared with mainland shares.
"We already have a world that's stuffed with capital and liquidity, looking for value," Matt Lloyd, the chief investment strategist at Monument, Colorado-based Advisors Asset Management Inc., which oversees $14.2 billion, said by phone. "There's a lot of room for Chinese equities to grow."
Before it's here, it's on the Bloomberg Terminal.
LEARN MORE