Avon Jumps on Report Company Is Reviewing Strategic Options
Lindsey Rupp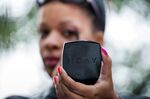 Avon Products Inc. shares jumped as much as 18 percent after the Wall Street Journal reported that the makeup company is exploring its strategic alternatives, including a sale of its North American operations.
The stock climbed as high as $9.47 as of 2:05 p.m. in New York, marking the biggest intraday gain since Jan. 22. Avon shares were down 15 percent this year through Monday's close.
Avon has posted three straight years of losses and declining sales, putting pressure on the company to explore its options. Linda Bolton Weiser of B. Riley & Co. has estimated that the entire company could fetch a takeover valuation of as much as $14 a share. It currently has a market capitalization of about $3.9 billion.
On Monday, Avon postponed an investor meeting that had been scheduled for May 13. It cited the recent hiring of James Scully as chief financial officer, saying Avon needed "adequate time to prepare for a more robust discussion at the meeting."
Lindsay Fox, a spokeswoman for New York-based Avon, didn't have an immediate comment on Tuesday.
The makeup company, a more-than-century-old business known for door-to-door sales, previously sold its stake in Avon Japan to private equity firm TPG Capital in 2010. Coty Inc., another seller of beauty products, also once bid $23.25 a share for all of Avon, an offer that was rejected in 2012. Coty later withdrew a sweetened offer of $24.75 a share, citing Avon's "unwillingness to engage in discussions."
Before it's here, it's on the Bloomberg Terminal.
LEARN MORE