Alibaba Moves Deeper Into China Health With Web Pharmacy Merger
Natasha Khan and Lulu Yilun Chen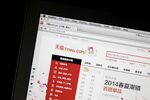 As Alibaba Group Holding Ltd. copes with slowing e-commerce sales growth, billionaire founder Jack Ma is expanding further into China's booming online health-care market.
Alibaba announced a $2.5 billion deal Wednesday to bring the Internet retail giant's health-care assets under one roof, moving its Web pharmacy business into its publicly listed health arm. Ma is setting his sights on health as more Chinese seek professional care, buy wellness products and use mobile gadgets to monitor their fitness.
China is grappling with a surge in chronic conditions such as diabetes and heart disease, and is racing to ramp up its medical infrastructure to serve an aging population. Bringing together the two operations also better prepares Alibaba, which is now limited to selling over-the-counter medicines, to move into prescription drugs sales if and when the government permits online purchases.
"This is actually one of the right pieces of the jigsaw puzzle to piece together," said Alexander Ng, a Hong Kong-based consultant at McKinsey & Co. "Having a network of logistics and also retail will complement its online dispensing services."
The move comes as Alibaba is expected to report sales growth of 45 percent for the year that ended March 31, the slowest pace since at least 2011, the earliest data available. Shares of Alibaba Health Information Technology Ltd. soared 81 percent to close at HK$12.26 in Hong Kong trading -- the highest level in 15 years -- after the restructuring was announced Wednesday.
In a deal valued at HK$19.4 billion ($2.5 billion), Alibaba Health will issue shares and convertible bonds to buy Beijing Chuanyun Logistics Investment Ltd. from Ali JK Investment, a wholly owned unit of Alibaba Group, and another investor. Chuanyun Logistics had 71 million yuan ($11.4 million) profit in the year that ended March 31, according to the stock exchange statement announcing the deal.
The deal gives Alibaba Health the exclusive right to operate the online pharmacy sales platform on Tmall, the group's business-to-consumer Web store. Alibaba Group will agree not to compete with its health arm in online pharmacy sales after the deal is done, according to the statement.
Chronic Conditions
Expanded online drug sales could slowly reshape the country's $149 billion market for prescription drugs by moving sales to Internet retailers and away from hospitals. Other technology companies such as Tencent Holdings Ltd. are also investing in online health care.
The market could balloon to 36.5 billion yuan in 2017, compared with an estimated 15.7 billion this year, according to a research report by Analysys International.
"Online and mobile health care is an area with enormous potential in China," said Mark Natkin, Beijing-based founder and managing director of Marbridge Consulting. "You've got an aging population, increasing income and therefore increasing awareness on fitness and health, and a rapidly growing IT infrastructure with more and more people accessing the Internet on Web and mobile."
Online Sales
Alibaba's TMall website features storefronts for 186 pharmacies selling over-the-counter medicines, medical devices, contact lenses, sexual health products and other general health care products, according to the statement. The parent will have majority control of the health arm after the transaction.
The fragmented supply chains for medical products in the country offer opportunities for growth, Alibaba Health said in the statement. The group would be well-placed to start online prescription drug sales should the opportunity arise, it said.
Alibaba's Tmall site already sells Chinese consumers everything from clothes to household items. Its payment affiliate Alipay and several Chinese hospitals allow patients to make doctors' appointments, pay medical bills and receive diagnostic results using their mobile phones, according a July report by Alizila, the group's news site.
"Alibaba is particularly well positioned to bring greater efficiency to the health care industry, in terms of product sourcing, tracking the supply chain and offering greater transparency on pricing," Natkin said.
Before it's here, it's on the Bloomberg Terminal.
LEARN MORE