A Subway-Style Map of San Francisco's Historical Trains
It was created using a collection of 1937 railway timetables.
By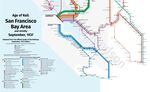 David Edmondson explores his passion for transportation through his blog and his Twitter account. In response to his online musings about how Bay Area trains ran in the 1920s and 1930s, one of his readers sent him a 1,500-page national collection of 1937 railway service timetables. Using this document, Edmondson visualized the train service in and around San Francisco from the time—in the form of a subway-style map (click through to enlarge the image).


"Finding the history helps me to see the present in a more clear light," Edmondson writes in an email."It helps me see not just what we've lost, but also what we gained."
To create the map, Edmondson transcribed all of the timetables of the train companies serving San Francisco and surrounding areas—noting their speeds, frequencies, waiting times at stations, and track-sharing patterns. Using a 1920s-era map of California railroads, and a few other references, he then incorporated this information into the map.
He says a lot of the railroads in the map are still used by train companies today. For example, Caltrain follows the map's blue lines from San Francisco to San Jose and Gilroy, and the new SMART train will rumble along the old Northwestern Pacific line from Cloverdale to San Rafael, he points out. On the other hand, the blue branch from Los Altos to Los Gatos is now a freeway, and the San Jose to Santa Cruz line is a combination of roads and abandoned railways.
Another thing the map shows, he says, is that these trains ran pretty slow back then—and aren't much faster now. "Our trains are stuck in the 1930s," he says.
Edmondson wants to create similar subway-style maps of other areas in America and around the world, and recently launched a Kickstarter campaign to fund this project.
"A subway-style map is the easiest way to synthesize all the data out there into something coherent and visible, so people can understand how we used to get around as a region and, eventually, as a country," he writes via email.
Edmondson's current project is a 1921 map of the D.C.-Baltimore region, where he now lives. He regularly tweets updates on how it's coming along: