Yen Buying by Global Central Banks Obstructs BOJ Inflation Goals
Kevin Buckland and Hiroko Komiya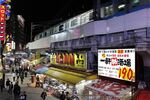 Bank of Japan Governor Haruhiko Kuroda can count yen purchases by global peers among the obstacles to achieving his 2 percent inflation target.
Central banks added to their yen holdings in order to keep the ratio of Japan's currency constant in dollar terms as it tumbled against the greenback at the end of 2014, according to analysis of International Monetary Fund data by banks including Morgan Stanley and JPMorgan Chase & Co. The yen's share of global reserves is about 4 percent in terms of the dollar.
Inflation has been moderating for close to a year, with the BOJ's preferred price gauge flatlining in February, even after a decision in October to expand unprecedented stimulus that has weakened the yen and pushed up import prices. Declines in Japan's currency have stalled near 122 per dollar this year, while economists estimate the yen must weaken to 140 per dollar in order for Kuroda to meet the 2 percent price-increase goal.
"Central banks have been buying yen, and that provides a headwind to dollar-yen strength at the margin," said Ray Attrill, the Sydney-based global co-head of currency strategy at National Australia Bank Ltd. "The pressure for additional easing in the coming weeks or months is likely to intensify if, as seems likely, inflation will turn negative again."
Kuroda will expand monetary stimulus as early as the policy meeting later this month, NAB predicts.
Best Performer
The yen is virtually unchanged against the dollar this year, making it the best performer among its Group of 10 peers barring the Swiss franc. While it reached a 7 1/2-year low of 122.03 per dollar in March, it has remained within a 7 yen band in 2015 after tumbling 8.4 percent in the fourth quarter, the most in two years. Japan's currency traded at 119.69 as of 7:45 a.m. in London Tuesday.
Morgan Stanley analysts estimate that reserve managers bought $45 billion worth of yen in the second half of 2014 as they shifted away from euro-denominated debt amid negative yields on German sovereign bonds.
Japan's two-year debt yielded 0.005 percent, compared with minus 0.278 percent in Germany Monday. The 10-year yields were 0.325 percent and 0.153 percent Tuesday, respectively.
"Japan offers a small positive yield which, while not ideal, is not an outright tax on reserve holdings," Morgan Stanley strategists led by London-based head of global currency strategy Hans Redeker wrote in a client note this month. "Central banks buying yen works like a hidden yen-supportive intervention."
Even so, the strategists point to a "reluctance" by the BOJ to ease further.
Global Demand
Foreign investors purchased a net 999 billion yen ($8.3 billion) in Japanese bonds during the week ended April 3, the biggest amount since October, according to Finance Ministry data released on April 9. That category includes central banks and, at the other end of the investment spectrum, fast-moving hedge funds and other speculators.
Tohru Sasaki, JPMorgan's Tokyo-based head of Japan rates and currency research, said the "extremely long-term view" taken by reserve managers may allow them to look through any weakness brought on by the BOJ's quantitative-easing program. JPMorgan predicts an expansion of stimulus in July.
Purchasing Power
The yen is 32 percent undervalued against the U.S. dollar based on consumer prices, the most after Sweden's krona among major currencies, according to a Bloomberg gauge of purchasing power parity. That compares with a discount of 7.1 percent for the euro, while sterling is more than 6 percent overvalued.
Considering purchasing power parity, which takes into account relative price levels in different countries, 105 per dollar may be an appropriate level for the yen, Koichi Hamada, an adviser to Prime Minister Shinzo Abe on monetary policy, told Bloomberg in an interview. Deviating by 10 percent or 20 percent from this is acceptable, he said.
"I don't think it's a bad thing to send a signal that selling of the yen is coming closer to its limit bit by bit," Hamada said. If it weakens much further, it could be problematic, he said.
Before it's here, it's on the Bloomberg Terminal.
LEARN MORE