Airlines
The Airlines' Scores Are In, and They Aren't Pretty
The big mergers haven't created carriers with better on-time or baggage-handling records​, a report says
by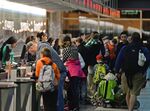 Letting U.S. airlines merge into behemoths was billed as a win-win: The carriers would become financially stable for the first time, and consumers would benefit from vast improvements in air travel.
Well, the first part of that arrangement has worked out beautifully, with airlines posting robust profits amid a plunge in the price of oil. But travelers aren't reaping the promised advantages, according to an annual ranking of airline performance. 
"Airline mergers and consolidations are taking a systemic toll that is bad for consumers," Brent Bowen, dean of the College of Aviation at Embry-Riddle Aeronautical University, said in the 25th Airline Quality Rating. "Performance by the airlines is slipping while they claimed this would make them better."
Only three of 12 airlines—Delta, Southwest, and Hawaiian—improved their scores, which weight on-time performance as the highest of four metrics, from 2013. The ranking, by Wichita State University and Embry-Riddle, compiles data on on-time performance, passengers bumped from their seats, mishandled baggage, and customer complaints as reported by the U.S. Department of Transportation. 
Virgin America, ranked first the past three years, retained its spot. Envoy, American Airlines' regional unit, was ranked last. Regional airlines typically fare worst in performance rankings because they fly small aircraft, and the large airlines for which they fly usually cancel regional flights first when weather makes an airport slow its operations. That allows the airlines to fly their larger planes, with more customers. 
Of the Big Three U.S. legacy airlines that have done mergers, only Delta improved operations in 2014, coming in at No. 3, due to a ferocious focus on minimizing flight delays and cancellations. That experience shows that a merged carrier can fix its past troubles, the report's authors said. United is still working to integrate labor groups as part of its 2010 merger with Continental, while American and US Airways are in the thick of their December 2013 merger, with the heaviest lifting expected to occur this year. Last week, the Federal Aviation Administration approved American and US Airways' request to operate as a single company. The companies merged their frequent-flier programs in March. 
Airlines had a tough 2014, with extreme weather in January and February, summer storms, and a fire in September at a major FAA radar facility near Chicago, said Melanie Hinton, a spokeswoman for Airlines for America, the industry's trade group. As for the mergers, regulators "found consumer benefit from strong networks, improved efficiencies, and new and increased service," Hinton said. "These mergers have allowed airlines to focus on renewing fleets" and "improving the product at all stages of travel."
American is aware of the challenges at its regional operation and has begun upgrading some regional jets with equipment that allows them to land in more inclement weather, spokeswoman Andrea Huguely said. American has been adding staff and ground equipment in Chicago and Dallas-Fort Worth, the carrier's two largest hubs, she said. 
The industry has been heavily promoting the amount it has been spending on new airplanes, airport upgrades, and improvements to on-board menus, Wi-Fi performance, and in-flight entertainment. U.S. carriers' capital expenditures topped $1.1 billion per month last year and could rise to $1.3 billion in 2015, according to the industry. Shareholders have also begun profiting from the mergers, as some U.S. airlines have used their new cash flow to begin paying dividends and boosting their share repurchases.
Much of the spending has been for new airplanes to retire older, less fuel-efficient models and for travel in first and business classes as airlines vie for the most lucrative customers. In first class, for example, seats that recline 180 degrees into flat beds have become the standard across the industry, matching the type of luxury seats on premium international airlines. Improvements to economy class, where most people fly, hasn't been nearly as dramatic. In fact, a range of U.S. airlines, including Southwest and JetBlue, are adding more seats in economy, which reduces legroom. 
"With the high profits being realized by airlines, it is evident they are not investing in customer service and restoring employee concessions given up during the economic decline," Embry-Riddle's Bowen said in a statement.
The airlines contend that over the economic cycles since deregulation in 1979, the industry has lost $32 billion collectively, with profit margins that lag behind those of other companies in the S&P 500 stock index. From 2001 to 2009, U.S. airlines lost more than $65 billion, according to the trade group.
Since 2010, U.S. airlines have been among the most profitable in the world.
The 2014 rankings (with 2013 in parentheses):
1. Virgin America (1)
2. Hawaiian (3)
3. Delta (4)
4. JetBlue (2)
5. Alaska (5)
6. Southwest (8) (includes AirTran)
7. American (9) (includes US Airways)
8. Frontier (11)
9. United (12) (includes Continental)
10. SkyWest (14)
11. ExpressJet (13)
12. Envoy/American Eagle (15)
Before it's here, it's on the Bloomberg Terminal.
LEARN MORE