Sprint Starting House Calls to Ease Users Into Upgraded Phones
Scott Moritz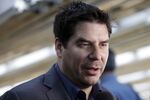 Sprint Corp. Chief Executive Officer Marcelo Claure got his start in the wireless industry in 1996, selling Motorola flip phones directly to customers from his car. Now he's bringing that same personalized service to Sprint.
Sprint subscribers in Kansas City, Kansas, and soon in Miami and Chicago can upgrade to new phones by appointment with a trained technician who will make house or office calls. They will activate the phones, transfer personal files such as contacts and pictures and offer tutorials free.
"We said we will make Sprint the easiest company to deal with," Claure said in an interview. "This addresses most people's concerns and transforms the way they can buy a new phone."
The Direct 2 You initiative highlights Overland Park, Kansas-based Sprint's efforts to hold on to subscribers and reverse years of customer defections. T-Mobile US Inc., the fourth-largest U.S. wireless carrier, gained more than 8 million users last year bringing the company to 55 million, and almost neck-and-neck with Sprint's 55.9 million.
T-Mobile CEO John Legere has said that if Sprint subtracted its inactive wholesale users, T-Mobile would take over the No. 3 position.
Claure said Sprint is focused on profitable growth and that its customers don't care if the company is third or fourth. Legere's predictions of exceeding Sprint haven't always panned out, Claure said.
"John Legere has been crying wolf since the third quarter of last year," Claure said. "We are still third."
Before it's here, it's on the Bloomberg Terminal.
LEARN MORE