SpaceX Plans to Try Again to Land Rocket Booster on Barge at Sea
Dana Hull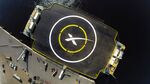 Elon Musk's SpaceX will make another attempt to precision-land the first stage of its Falcon 9 rocket on a custom-built ocean platform after Monday's scheduled mission for NASA to resupply the International Space Station.
SpaceX aims to dramatically cut the cost of spaceflight by developing reusable rockets, part of the Hawthorne, California-based company founder's larger plan to eventually create a human settlement on Mars.
Hans Koenigsmann, SpaceX's vice president of mission assurance, said SpaceX has upgraded the drone ship so that it can keep its position better and handle higher ocean swells than previously, improvements that bode well for success Monday.
"I would up my probability to 75 percent at this point in time. Maybe 80," said Koenigsmann during a pre-launch press conference Sunday. If the landing attempt is successful, Koenigsmann predicted an "epic landing party."
Falcon 9, carrying its Dragon cargo spacecraft and 4,300 pounds (1,950 kilograms) of supplies, is scheduled to launch at 4:33 p.m. New York time Monday from Cape Canaveral, Florida, for the company's sixth official Commercial Resupply Services mission to the orbiting lab.
Weather forecasters from the U.S. Air Force 45th Weather Squadron predicted a 60 percent chance of favorable weather amid some concerns about tropical moisture and thick clouds. If Monday's scheduled launch is scrubbed for weather or technical reasons, the next launch opportunity would be on Tuesday.
January Attempt
Space Exploration Technologies Corp. in January first tested the ability of its Falcon 9 rocket to touch down its landing legs on a barge. The 14-story-tall rocket ran out of hydraulic fluid shortly before it hit the ship and broke into pieces. A planned attempt in February was scrubbed due to stormy Atlantic seas.
The modified landing barge, marked with a huge X, is floating hundreds of miles offshore. The name of the SpaceX vessel is Just Read the Instructions, Musk's literary nod to the late Scottish science-fiction author Iain M. Banks.
Most rockets burn up on re-entry from orbit. SpaceX is building rockets that are designed not only to withstand re-entry, but also to land safely on Earth to be refueled and fly again.
"If you are able to refly your first stage, you need to establish how many times can you refly it -- is it 20 times, 40 times, 50 times?" said Koenigsmann during Sunday's press conference. "Your operation completely changes. You get into a maintenance operation, where it's more like an airplane-type operation. From my perspective, I look at risk. I like getting the stage back because it has proven itself, so there is benefit in terms of reliability. You are not always getting in a new car every time you drive to work. The implications are huge, and in the long term this might change completely how we approach transportation to space."
Re-usability would create big savings -- reducing costs by as much as a factor of 100, Musk has said -- and give SpaceX an edge against competitors such as United Launch Alliance, a Boeing Co.-Lockheed Martin Corp. venture.
SpaceX released on its Twitter feed a graphic image detailing the process of landing Falcon 9's first stage. After the first stage separation, a "flip maneuver" rotates the rocket 180 degrees so the engines are pointing in the direction of travel. Four "grid fins" deploy to help steer the rocket to a soft touchdown as landing legs unfold.
Before it's here, it's on the Bloomberg Terminal.
LEARN MORE