Scottish Nationalists Extend Poll Lead on Labour After Debates
Rodney Jefferson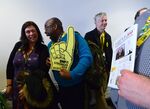 The Scottish National Party almost doubled its lead in a monthly opinion poll, putting it on course to sweep up dozens of districts from Labour and possibly decide the outcome of next month's U.K. election.
The survey by TNS published on Monday put the SNP at 52 percent of the vote, with Labour at 24 percent. The 28 percentage-point gap compared with 16 points a month earlier and reflects SNP leader Nicola Sturgeon's performance in televised debates, the company said.
"Not only have Labour's hopes of a recovery in support been dashed but even worse, it appears to have gone backwards," Tom Costley, head of TNS Scotland, said in a statement. "The latest poll shows some evidence that the growth in SNP support is mainly coming from disaffected Labour supporters."
While the nationalists lost a referendum on Scottish independence in September, they won an unprecedented number of supporters who want the party to push for more powers for Scotland. Sturgeon, 44, gained plaudits after the live debate between U.K. party leaders this month, with at least one snap poll showing she had beaten Conservative Prime Minister David Cameron and Labour challenger Ed Miliband.
Miliband urged voters on Monday not to be drawn away from the battle between Labour and the Conservatives.
Scotland's Choice
"The choice is between a Labour government and a Conservative government," he said in a speech in Manchester to unveil the party's manifesto. "It's very, very important that people in Scotland and elsewhere focus on that choice."
The TNS poll was conducted March 18 to April 8 and included 978 adults across Scotland. No margin of error was given.
The SNP currently has six of Scotland's 59 seats in the House of Commons, while Labour has 41. If the polls are correct, the nationalists would end up with more than 50. The most they have ever held was 11 in the 1970s.
The SNP ruled out any deal with the Conservatives. Should Labour prevail nationwide, it likely would need the support of the SNP to form a viable government. Miliband has ruled out a formal coalition, while Sturgeon has said her party might lend support on a vote-by-vote basis.
For News and Related Information:
Before it's here, it's on the Bloomberg Terminal.
LEARN MORE