Greens Want to End Thatcher Legacy Spending $290 Billion
Tom Beardsworth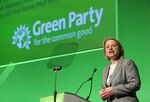 The Greens pledged to eradicate the economic legacy of Margaret Thatcher by increasing U.K. public spending by 197.8 billion pounds ($290 billion) in the unlikely event that the party forms a government next month.
Green leader Natalie Bennett set out her spending proposal for the next parliament alongside plans to reverse climate change and abolish the local administration governing the City of London as she unveiled the party's manifesto, titled "For the Common Good," in Dalston, east London on Tuesday.
"Our manifesto is an unashamedly bold plan to create a more equal, more democratic society while healing the planet from the effects of an unstable, unsustainable economy," Bennett said. "This is a model of an end to Thatcherism."
The Greens are averaging about 5 percent support in national polls in the run-up to the May 7 election, after hitting 10 percent in some surveys earlier this year. The party has drawn support from disaffected Labour and Liberal Democrat voters amid an increasingly fractured British political landscape in which neither Labour nor Prime Minister David Cameron's Conservatives has managed to establish a decisive advantage.
Green lawmakers would support the Labour Party on a vote-by-vote basis, former leader Caroline Lucas told journalists. Still, the Greens aren't predicted to add to their sole seat in the Commons, held by Lucas in Brighton on England's south coast. Green candidates are running in 535 of the 573 House of Commons districts across England and Wales, up from 310 in 2010.
Rival Plans
The Greens' program would leave state spending about 9 percent higher as a percentage of U.K. output in 2019 compared with the coalition government's plans, according to their manifesto.
On Monday, Labour leader Ed Miliband presented the main opposition party's manifesto, pledging spending cuts across several government departments in a bid to win credibility for its fiscal plans, criticized by the Tories as reckless. The Conservatives also presented their manifesto Tuesday, promising help for the low-paid and the "right to buy" for tenants living in properties owned by housing associations.
A Green government would raise billions by abolishing the capital-gains tax allowance and increasing corporation tax on large firms amid a range of measures aimed at wealthy individuals, the financial sector and carbon-intensive industries. The party has also budgeted 25 billion pounds to slash employers' national insurance charges in a bid to encourage job creation.
Organic School Dinners
An extra 12.4 billion pounds would be raised from taxing alcohol, tobacco and unhealthy food. Along with unprecedented spending commitments to social housing, pensions and environmental protection, a Green government would spend 1 billion pounds ensuring that food services in schools and hospitals is organic.
A tax on aviation fuel, which the Greens hope will raise 16 billion pounds by 2019, "would be difficult to do" if other countries don't follow the same path, the manifesto's author Brian Heatley told journalists.
"This manifesto presents the Green Party's genuine alternative to our tired, business-as-usual politics," Bennett said. The party's plans include about 200 billion pounds ($292.8 billion) of extra spending and taxation by 2019. Bennett said. "Austerity has failed and we need a peaceful political revolution to get rid of it."
Before it's here, it's on the Bloomberg Terminal.
LEARN MORE