Norilsk Sees Nickel in Cars Tripling as Tesla Drives Sales
Yuliya Fedorinova and Andrey Lemeshko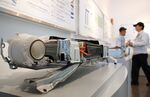 Nickel demand from the auto industry is set to rise as much as threefold in five years as output of electric and hybrid cars gathers pace, according to Russia's largest producer of the metal.
"Hybrid and electric cars make more demand for nickel," Anton Berlin, head of strategic marketing at OAO GMK Norilsk Nickel, said in an interview in Moscow. "It will rise because many automobile companies, such as Tesla Motors, have very ambitious plans for the future."
Electric and hybrid vehicles are increasingly becoming a low-cost alternative for consumers as their batteries -- which use nickel -- get cheaper and more efficient. That may aid a recovery in the market for the metal after prices slumped because of oversupply in the stainless-steel industry.
Tesla Motors Inc., California's largest automotive employer, is seeking to make electric cars for the masses by adding a battery factory near Reno, Nevada. Chief Executive Officer Elon Musk said last month that Tesla would also reveal "a major new product line" at the end of April.
Use of nickel in car batteries may rise to more than 100,000 metric tons a year by the end of the decade from 30,000 tons in 2014, according to Norilsk's Berlin. That projection is equal to about 5 percent of current global output; it also matches Norilsk's shipments to China last year, according to data compiled by Bloomberg.
Price Drop
Nickel is used mostly in stainless-steel manufacturing. Overcapacity in that industry has dragged down prices for the silver-white metal more than 30 percent in the past year. Nickel was little changed on Tuesday, falling 0.1 percent to trade at $12,395 a ton as of 2:45 p.m. in London.
Demand for the metal from non-stainless-steel industries may grow by 3 percent this year after increasing 4 percent in 2014, according to a Norilsk presentation. The Moscow-based company, which used to be the world's largest producer, controls about 13 percent of the market after Brazil's Vale SA edged ahead last year with a 700-ton lead on its Russian rival.
Nickel producers have their eye on the two largest car markets: China, where policy makers are tightening fuel standards and exempting electric vehicles from certain traffic restrictions; and the U.S., where three-quarters of states offer some sort of incentive for clean-air cars.
U.S. Sales
Battery shipments for electric and hybrid vehicles in North America surpassed 126 million units last year for the first time, according to data from Bloomberg Intelligence. U.S. sales of plug-in vehicles rose about fivefold from 2011 to 2013, while charging stations increased almost sixfold.
Tesla's factory in Reno is designed to more than double the world's supply of lithium-ion batteries. Meanwhile Toyota Motor Corp., the producer of the Prius hybrid, is using mostly nickel-metal hydride batteries, which contain even more nickel. The Japanese manufacturer said in October it had sold more than 7 million hybrid vehicles since 1997.
Global electric-car output is set to triple to about 700,000 cars a year by 2020, while hybrids will double to 5 million a year, according to Berlin. While some will use a lithium-ion battery, nickel-based cells have the advantage of costing less and are commonly used in gasoline hybrid vehicles, said Kevin Tynan, an analyst for Bloomberg Intelligence.
"The potential increase in nickel-metal hydride batteries penetration is possible for a much larger pool of vehicles," Tynan said. While consumers will struggle to recover the premium cost of a lithium-ion vehicle, the increased use of nickel batteries "appears to be the best balance of cost and fuel efficiency," he said.
Before it's here, it's on the Bloomberg Terminal.
LEARN MORE