Google, Rivals Said to Prepare for EU Antitrust Decision
Aoife White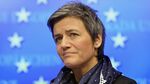 Google Inc. and its critics are preparing for the European Union to make a decision on how to proceed with a four-year-old antitrust probe against the company as soon as this week, according to three people familiar with the case.
European Union Competition Commissioner Margrethe Vestager, who is leading the probe, leaves on Wednesday for her first trip to the U.S. since assuming the post and an announcement would allow her to discuss the case, the people said on condition of anonymity because details of the probe aren't public. People on both sides of the probe are bracing themselves for a decision from her that might see the EU move to levy fines and request changes to Google's business practices.
"We are waiting for a decision increasing the pressure on Google" to change its conduct, said Ramon Tremosa, an EU lawmaker from Spain's Catalonia region. "Google is increasing market share and European companies are losing revenues."
The EU stepped up its probe into the world's biggest search engine in December when it sought fresh information from people involved in Internet maps, travel and other services. Opposition from Google rivals scuttled three previous settlements that were hammered out by Vestager's predecessor. The EU has been investigating since 2010 allegations that Google discriminates against rivals in search results.
'Far-Reaching'
Guenther Oettinger, the EU's digital commissioner, expects "far-reaching" steps from Vestager who will soon come to a conclusion on the case, he told Die Welt in an interview on Sunday. He said he was sure that Google's business model would be eyed more critically than before.
Al Verney, a Google spokesman in Brussels, didn't respond to questions about the probe. The EU declined to comment.
Vestager will visit Washington later this week to meet U.S. antitrust officials and attend the American Bar Association's spring meeting with lawyers and officials from both sides of the Atlantic. She will visit New York next week to speak at a financial conference and a New York law school.
"This is good timing," said Damien Geradin, a professor at George Mason University School of Law in Virginia. "Everybody is in D.C. and listening."
One antitrust consultant who represents companies that filed complaints with the EU about Google says the probe has already taken too long in comparison with an earlier case against Microsoft Corp., which resulted in fines totaling 2.24 billion euros ($2.36 billion).
'Delay' Tactics
"From complaint to statement of objections there were around 20 months in the Microsoft case, and we've had to wait three times longer," said Jacques Lafitte, who advised French search engine owner 1plusV.fr. Google has done "an impressive delaying job" to stave off tougher action.
Vestager inherited this case after her predecessor spent nearly two years trying to settle it and "action is needed," Geradin said. Technology markets move quickly and "an investigation cannot last forever."
It still might be too soon, however, for Vestager, who turns 47 today, to send the Mountain View, California-based company a formal complaint, known as a statement of objections. While Vestager has said she's aware of Google's importance to the digital economy and is closer to completing the case, she said just last week that regulators "are not there yet."
State of Play
If Google were to be sent a statement of objections this week, it should have been offered a so-called state of play meeting with regulators beforehand, according to the EU's best practice guidelines. Such a meeting hasn't taken place yet, according to one of the people.
The EU has made some moves that could allow it step up its case by sending a statement of objections soon. It has asked rivals to update evidence and declassify some of it so Google could view it. Objections would lay out where the EU thinks Google is breaking the law, allowing it to defend itself before any possible fines.
A statement of objections, or SO, is a key part of an antitrust case prior to any decision to issue fines or order changes of behavior the EU deems unlawful.
Targets of SOs can seek to sway the EU with arguments in writing or at a hearing before regulators make any final ruling. Firms can also offer to make a binding pledge to settle the case and avoid any fine.
Before it's here, it's on the Bloomberg Terminal.
LEARN MORE