De Blasio Prodded to Hire 1,000 Police Officers by New York City Council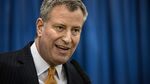 Leading members of the New York City Council say they will call on Mayor Bill de Blasio to revise his budget for the next fiscal year to include hiring an additional 1,000 police officers, an increase of 2.8 percent.
Speaker Melissa Mark-Viverito, Majority Leader Jimmy Van Bramer, Finance Chairwoman Julissa Ferreras and Public Safety Chairwoman Vanessa Gibson said in statements Sunday they would support expanding the mayor's $77.7 billion preliminary budget to increase the force from its current 35,437 police officers.
"To continue to keep New Yorkers safe while also implementing new reforms and initiatives we need to increase the overall headcount," Mark-Viverito said in a statement.
Police Commissioner Bill Bratton supports the new hires, which would cost about $69 million next year, rising to $111 million by 2019. The mayor and council must agree upon a balanced budget before the 2015 fiscal year ends on June 30.
De Blasio resisted similar calls last year from council members, even though the police department has contracted by 5,100 since 2001. He said that the city had a record low crime rate.
Of the department's current $4.8 billion budget for fiscal 2016, about $2.7 billion goes to the salaries of uniformed officers.
Council members also called on de Blasio to reduce police overtime by $50 million. The administration has said it expects those costs to reach $672 million, or $173 million more than budgeted, in the current fiscal year, according to a council analysis released by its press office.