Spieth Wins Masters at 21 by Tying Woods's Record 18-Under Score
Erik Matuszewski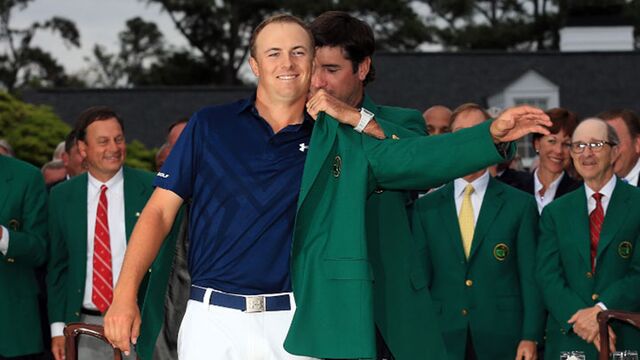 Jordan Spieth became the second-youngest champion at golf's Masters Tournament, tying Tiger Woods's record for the lowest score in the event's 79-year history at 18 under par in a wire-to-wire victory.
A year after a runner-up finish in his Masters debut, the 21-year-old Spieth turned in a record-setting performance at Augusta National Golf Club in Georgia to stamp his ascendancy as the top American golfer.
Spieth finished four strokes ahead of Justin Rose and Phil Mickelson to surpass Seve Ballesteros as the second-youngest winner of the season's first major championship. Woods was about five months younger than Spieth is now when he captured the first of his four Masters titles by a record 12 shots in 1997. Woods was a tournament-record 18 under par that year.
"It was the most incredible week of my life," Spieth said. "This is as great as it gets in our sport. It's a dream come true for me. To shoot some low rounds and so see some putts go in out here and to hear the roars, it was remarkable."
Spieth had six birdies and four bogeys in shooting a 2-under-par 70 during Sunday's final round. He totaled 28 birdies over the four rounds, breaking the tournament record of 25 set by Mickelson in 2001.
Spieth got to 19 under before missing a 5-foot par putt at the final hole. The bogey cost him a chance to tie the lowest score in relation to par at any of golf's four major championships, as Woods was 19 under in winning the 2000 British Open by eight strokes.
Green Jacket
Spieth earns $1.8 million for the victory along with the ceremonial green jacket. It's been a dominant stretch for Spieth, who had a win and two runner-up finishes in his three previous tournaments and will climb two spots to No. 2 in the Official World Golf Ranking behind McIlroy. He moves past Bubba Watson, who had been the highest-ranked American after winning two of the three previous Masters titles.
No player had won the Masters by more than three strokes since Woods's record-setting victory 18 years ago.
"It's nice to get your major tally up and running at an early stage in your career," said McIlroy, who finished fourth at 12 under after a Sunday 66. "It's great to see, great for the game and I'm sure he'll win many more."
Woods tied for 17th place at 5 under par, his best finish in a full-field event since 2013. Hideki Matsuyama was alone in fifth at 11 under, two shots better than Paul Casey, Ian Poulter and Dustin Johnson. Hunter Mahan, Zach Johnson and Charley Hoffman were the only others within 10 shots of Spieth, all finishing at 8 under.
Marketable Star
Spieth's early success has quickly made him one of golf's most marketable young stars. In January, Under Armour Inc. signed Spieth to a 10-year contract extension and plans to create its first golf shoe with his help. Spieth also carries a golf bag with the AT&T Inc. logo, making him the first golfer to represent the Dallas company since it dropped Woods.
Spieth's career path has mirrored Woods before.
In 2011 he joined Woods as the only players to win multiple U.S. Junior Amateur titles and he was ranked the No. 1 junior player on the U.S. before he turned 18. He was a member of the winning U.S. Walker Cup team as an amateur in 2011, led the University of Texas to a national championship in 2012 and in 2013 won the John Deere Classic in a playoff two weeks short of his 20th birthday, becoming the youngest winner on the U.S. PGA Tour since Ralph Guldahl in 1931.
Ben Crenshaw, a two-time Masters winner who also was a student at the University of Texas, said earlier this week that Spieth possesses a rare combination of "maturity beyond his years," an innate ability to score well and a competitive fire.
Wyatt Earp
"When I first met him, I'll never forget it, I thought I was looking at Wyatt Earp," Crenshaw said, referring to the legendary lawman of the American West who in 1881 was involved in a gunfight with a group of outlaws at the O.K. Corral in Tombstone, Arizona. "He just had that look about him."
Spieth now joins Woods and Sergio Garcia as the only players since 1940 to win three PGA Tour events before their 22nd birthday. Woods logged six wins and Garcia had three.
Spieth started the week by shooting a 64 that was one shot off the lowest score in Masters and major championship history, becoming the youngest first-round leader ever at Augusta National. He followed it up with a 66, breaking the tournament's 36-hole scoring record. He shot a third-round 70, overcoming a late double-bogey to set another record, this time for the lowest 54-hole score ever at the Masters.
Final Round
A year ago, Spieth held a two-shot lead with 11 holes to play during the final round and lost to Watson. At the same point this year, Spieth's lead was down to three strokes after two bogeys in a three-hole span on Sunday. Yet Spieth widened the gap this time, making a birdie at the par-5 eighth hole and gaining another stroke when Rose bogeyed the par-4 ninth hole with a three-putt from 28 feet.
When Spieth rolled in a 20-foot putt for birdie at the 10th hole, he was up six shots with eight holes remaining. It was Spieth's 26th birdie of the tournament, breaking Mickelson's record, and nobody would get closer than four strokes the rest of the way.
"Awesome composure," said Rose, who also shot a final-round 70. "Every time I thought maybe there was a chink in the armor, he'd come out and hole an eight-foot putt."
Spieth is the fifth player to hold the lead after every round in winning the Masters and the first since Raymond Floyd in 1976. The other wire-to-wire winners were Jack Nicklaus (1972), Arnold Palmer (1960) and Craig Wood (1941).
Spieth has now shot par or better in all eight of his career rounds at the Masters, where winners on average have had at least six years of experience. He's just the fourth player to win the tournament in his second appearance and the second in the past 69 years, joining Charl Schwartzel in 2011.
"He's just a tremendous shot maker, great putter, great short game. He has no weaknesses," Mickelson said of Spieth. "He doesn't overpower the golf course, but he plays the course strategically well. And he has that ability to focus and see things clear when the pressure is on and perform at his best. That's something that you really can't teach."
Before it's here, it's on the Bloomberg Terminal.
LEARN MORE